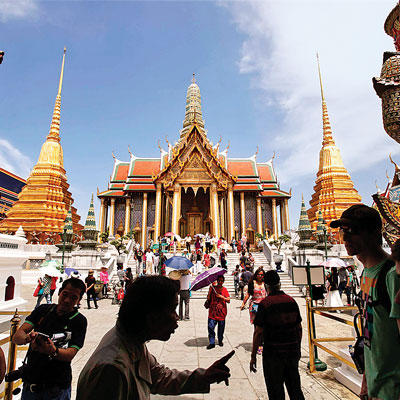 In the quiet of his travel agent's Dadar office Amit Bhagat's phone goes off with a rustic rendition of Mharo Helo Sunoji Ramapir. "Shoon chhe?" (What is it?) he snaps at his wife. "I'm working it out. I'll come and tell you." He is very obviously irritated. "We had planned our Pattaya Bangkok-Chiang Mai trip to Thailand months ago. But now given the disturbances, army coup and protests, we are forced to change our plans last minute," he complained. "My brother and my family is travelling with little kids. We can't obviously take a risk." The group of eight are now planning to go to Hong Kong and Macau instead.
Across the city, Walkeshwar-resident Doshis', have similar concerns. Homemaker Ankita Doshi, said, "My son Vipul, worked hard on his XII science this year and was looking forward to the holiday. He was particularly keen on playing with tiger cubs at Wat Pha Luang Ta Bua. Now we are looking at going to Angkor Wat and Sihanoukville in Cambodia." In their case, the travel agent himself warned them. "He said even touristy hang-outs may not be very safe given the current conditions. After that my husband immediately cancelled our bookings."
The Thailand Authority of Tourism (TAT) has admitted arrivals have fallen by over a million this month alone. With some hotels in the capital and nearby Pattaya and Hua Hin only 30% full, TAT admits that the country is staring at a loss of nearly $685 million. Already the US, China, Malaysia Singapore and the Phillipines, has issued travel advisories warning citizens to reconsider non-essential travel to the country.
It was these advisories that set the alarm bells going for Ramakant Desai, a Fort-based travel agent, who advised the Doshis to change their plans.
A leading multinational travel company with a strong base in Mumbai was willing to speak on condition of anonymity about how bad the situation is. "We are under a considerable pressure from our long term Thai associates to downplay the risks and we may have to work with them again as and when things improve," said a spokesperson, who admitted that they have seen Indian cancellations - particularly from Delhi, Mumbai and Gujarat from where most tourists come to Thai destinations - go over 70%.
Citing TAT statistics, the spokesperson said, "Bangkok itself attracted almost 1.8 lakh visitors from India in 2013, a 46% jump from the year before but since the disturbance in November things have taken a downward spiral."