Blogger, foodie and westcoast resident Disha Khurana recounts her experience at the Flavours of Thailand workshop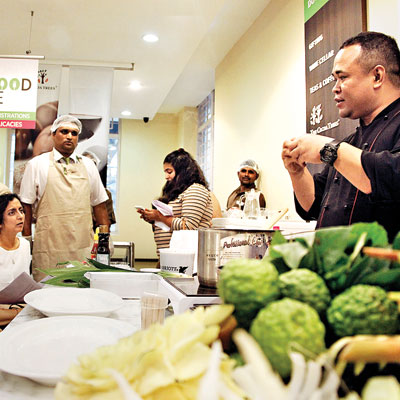 I stumbled upon the news that Chef Suriya of JW Marriott Hotel, Mumbai, was to give a cookery demonstration on Thai food at Godrej Nature's Basket, Bandra—which served as a refreshing setting—and decided to attend it despite having a pre-planned hectic day. A fellow food blogger had already registered my name and was kind enough to save me a seat in the second row.
As soon as everyone settled down, Chef Suriya walked in and wooed all with his charming personality—his notion was simple—to teach us how to cook Thai food the way it is meant to be. We were handed a printed copy of the recipes to be taught at the workshop and demonstrated in a live kitchen.
The chef decided to begin with Young Coconut Jelly, a quick and hassle-free dessert, as it needed to be refrigerated. Next on his list were the appetisers, including the hearty Lemon Grass Chicken and the savoury Prawn Chilli with Garlic and Hot Basil, a complete winner with the participants. As the chef and his assistants began tossing veggies and sauces into the pan, the room filled up with the aromas of Thai food. Between every dish, samples of the food prepared were distributed so that the audience could taste it and understand the flavours better.
The refreshing Chicken Glass Noodle Soup was loaded with flavours and was extremely light on the palate. The chef also introduced us to a couple of ingredients included in his dishes like galangal and finger root, which are varieties of ginger, and shitake mushrooms. As the workshop drew to a close, we got to taste the minimalistic dessert, Young Coconut Jelly which was remarkably tasty.
All of Chef Suriya's preparations can be tried at home as they are easy to make and are appetising and tasty. Kudos to the chef's patience as he answered the questions posed by the audience, and also explained the basics of Thai cooking and how we could incorporate it into our meals. I returned home armed with a basketful of memories and a couple of Thai recipes waiting to be tried and tested at home!
As told to Anita Aikara