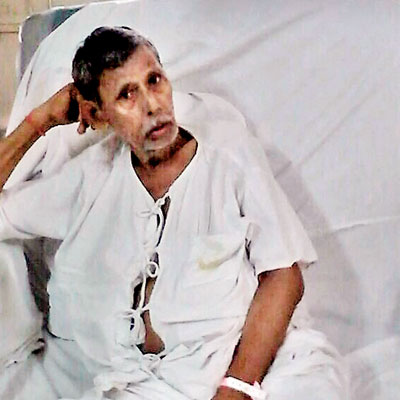 A 42-year-old HIV positive patient suffering from TB of the brain went on the rampage at Bombay Hospital on Monday, killing a 65-year-old lung cancer patient and injuring two others. The Agripada resident was admitted on May 8 after he tested positive for HIV. He was also suffering from a psychiatric problem, but the hospital denied the charge.
In an unprovoked attack around 6.30am, the patient started hitting Lilabihari Govardhan Thakur, 65, who was sleeping on the adjacent bed, with a saline rod till he started bleeding. He also injured two other patients - Praful Parmar, 70, and Janardhan Arte, 66 – and a ward boy. "There were 30 patients in the ward on the third floor when the incident took place. The medical staff swung into action with a rope and sedative injection to restrain the patient. He was brought under control by four ward boys and five nurses after 15 minutes," said a doctor with Bombay Hospital. The police later arrested the patient and booked him for murder.
Thakur was shifted to the ICU, but he passed away four hours later. "He had a severe skull fracture. We tried reviving him, but he succumbed to his injuries. His body has been sent to JJ Hospital for post-mortem," said Bombay Hospital spokesperson Dr Sagar Sakle.
Sources said the attacker suffered from psychiatric problems and had homicidal tendencies. Before he was admitted to Bombay Hospital, he underwent treatment at Mazgaon's Masina Hospital. JJ Hospital dean Dr Tatyarao Lahane also confirmed to dna that the patient had a history of mental illness and was treated for the same a few years ago. But Dr Sakle said: "The patient had no psychiatric problem and that was the reason he was not referred to a psychiatric."
Neurologist Dr Nirmal Surya of Bombay Hospital who was treating the patient told dna: "He was not under any medication. He had TB of the brain a year-and-a-half ago, but he stopped taking medicines midway. An MRI scan detected swelling in his brain, but he showed no signs of violence or aggression in the last four days."
The patient was kept in the ward till he was arrested. He was later shifted to JJ Hospital where he is kept under observation in the psychiatry ward. The doctor treating him at JJ told dna that he suffers from chronic psychiatric ailment. "He was on anti-psychotic medicines which he had stopped taking," he said.
The complainant, nurse Alina Anthony, told the police, that the hospital staff forced him to a chair and restrained him from moving after the violence erupted. Senior inspector Narendra Singh of the Azad Maidan police station said initially, a case of attempt to murder and voluntarily causing hurt with use of sharp weapon was registered against the accused. "However, after the cancer patient passed away, a case of murder was also registered," he said.
The deceased, Thakur, was a resident of Pratiksha Nagar in Sion. "My father was shifted to the general ward from the ICU on April 30. His bed was next to that of the accused. My mother had gone down to buy medicines when my father was attacked," said Pankaj, Thakur's son. Eyewitnesses said the accused unscrewed the rod of the IV drip and first attacked Pankaj's father with the rod thrice before making the others his target.
Psychiatrists said such incidents should not deter private hospitals from admitting patients with mental illnesses. Noted psychiatrist Dr Harish Shetty said: "Private hospitals should start a ward dedicated to mental illness. This incident could have been avoided if Bombay Hospital had such a ward." He said most doctors were not familiar with mental illnesses. "Some years ago, a patient committed suicide in a private hospital and since then, its management stopped admitting patients with mental illnesses. The awareness about mental illness is very low even in the medical fraternity," he said.