Godfrey Pimenta of Watchdog Foundation talks about the 'Band-Aid' approach adopted for the potholes situation in the city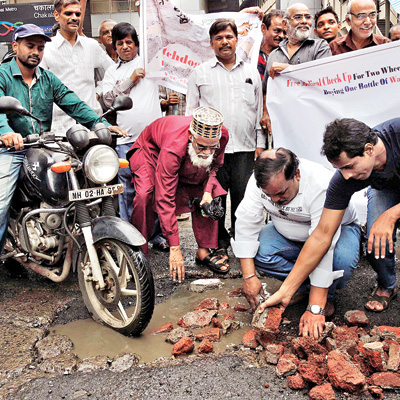 The Watchdog Foundation along with other supporting associations held a shramdaan-cum-march on Saturday, August 9, 2014, from J.B. Nagar Metro Station to Airport Road Metro Station, Andheri. En-route the march, the members filled up 21 potholes. They also distributed 100 'Watchdog' balms to motorist plying on the Andheri Kurla Road for instant "chutkara from potholes".
The special balm meant for curing a sprained ankle or a broken back as a result of tripping over potholes wouldn't be needed, had it not been for the callous attitude of the concerned authorities. Post the August 9 march, an SMS was sent to the Municipal Commissioner (MC) about it. The MC replied to the SMS stating that "The road is with MMRDA". After another SMS of a similar situation elsewhere, a road engineer was asked to attend to the matter. Work has started but sans a BMC sub engineer/asst. engineer or even a road roller. This is a classic case of tax payers' money going down the pothole.
The Municipal Corporation of Greater Mumbai (MCGM) is one of the largest local governments in the Asian continent and the richest civic body in the world. One would imagine that an influential civic body such as this gets work done at the snap of a finger—but that's not the case. It is reported that tenders for road contracts, that run into crores, are passed within a record time of 10 minutes but tenders for ordering neo-natal ventilators for hospitals are mired in legal issues for two years. So much for being a prince!
Last year, the internationally renowned Swiss audit firm SGS submitted an audit report to the Corporation, based on lab testing of paver blocks done by SGS and also on the detailed scrutiny of the work orders of various road contractors. It specifies that the specifications given in the tender document are so stringent that if roads were to be constructed as per these specifications, they would last for at least 20 years. But then, why would those who are involved in the tender, road construction and quality and maintenance kill the hen that lays the golden eggs every year?
We can send lunar missions and count ourselves in the big league along with leading nations of the world but we do not know how to build a durable road.