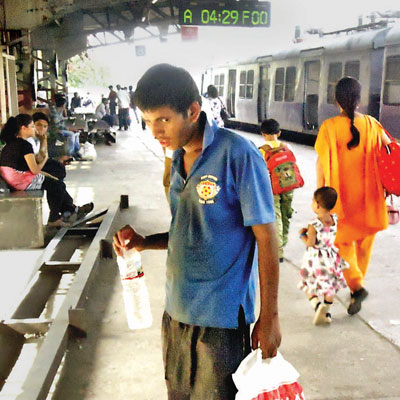 In a city where people go missing and get lost for ever, Bandra resident Abdullah Shaikh considers himself lucky, and wise. He was reunited with his mentally disturbed son Mehboob after a good Samaritan spotted the boy at Virar railway station. The wise part of the story is that Mehboob has a tattoo on his arm that has his family's address and a contact number.
Apart from poor mental health, 18-year-old Mehboob from Nehru Nagar, Bandra (E), can't see much in both his eyes. His father Abdullah works as a waiter at Café Mela, a restaurant located in Kamathipura area of Mumbai Central. Abdullah had filed a missing complaint on March 31.
"Around noon on Friday I was waiting to board a Churchgate-bound train when I noticed a confused youngster on platform No.8. I gave him a vada pav and water. He gobbled down the snack and gulped the water in no time," said Rajesh Gagh, who works as a volunteer with Jeevan Anand Sanstha at Khar.
Jeevan Anand works with homeless people and helps them reunite with their families. Gagh said he noticed a tattoo on the boy's arm. "It had a phone number and an address." he said.
Gagh then called up his brother-in-law Rakesh Shirke who works at Kherwadi police station. "The details of the boy I found at Virar matched with the one in the missing complaint filed by Abdullah," said Gagh, adding, "Mehboob was then to Jeevan Anand where his family was waiting anxiously to see him," said Gagh.
"We had been given Mehboob's description. Since we did not have his photo, it would have been a daunting task to trace him had it not been for Gagh's alertness," said Rajesh Teli from Kherwadi police station.
Abdullah said Mehboob often wanders off and had gone missing on four previous occasions. He said, "When he was 14, he went missing for two months. Someone had admitted him to a children's home in Mankhurd. That's when I got our phone number and address tattooed on his arm. He said he went walking till Bandra station and boarded a train. He is fascinated by trains."