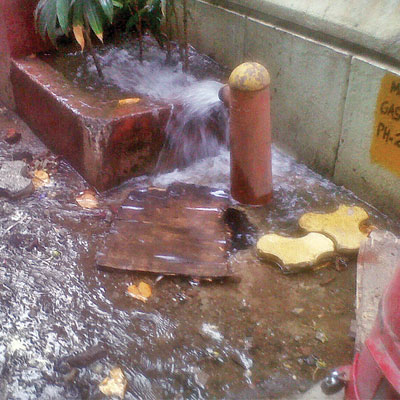 Over the past two years, nearly 3,000 residents from Juhu Koliwada area are living in fear. The reason: taps in their homes are spewing stinky water which has sent many to hospitals. The locals say despite repeated follow ups, the civic body has failed to address the issue. dna had reported the matter on May 5.
The aggrieved residents say the morning supply is murky, while the water is much cleaner in the afternoon. They allege instead of going to the root of the problem, the civic body has now started opening up six to seven fire hydrants in the area, apparently to flush out the contaminated water. However, the quality continues to oscillate between potable and putrid.
"As a result, every morning, the roads are flooded and million of litres of water is wasted," said Larson Fernandes of Juhu Angels Welfare Association. The area falls under the jurisdiction of Brihanmumbai Municipal Corporation's K-west ward.
Fernandes said the morning supply is diverted through the H-west ward, where there sewage enters the water pipeline. "Flushing is a waste and it cannot be a permanent solution. The H-west ward authorities have not been cooperating with us." Fernandes said their repeated pleas to the civic body have fallen on deaf ears.
Residents say the BMC had cleaned the pipeline on a few occasions, giving them temporary relief. However, neither the K – West ward office nor the central water department of the corporation is keen to work out a permanent solution, they say. They claim that questions raised through RTI also have not elicited satisfactory reply from BMC.
"Even the local corporator was unable to solve this problem. We cannot drink this water and several children and senior citizens are falling sick," said Flory Fernandes, a senior citizen.
Fernandes said former MP Gurudas Kamat had written to the BMC in August 2012 on the dirty water problem. He said, "After several RTIs, I learnt that residents of K–west ward gets water from H–west. Also, being at the fag end of the area, we get little water."
Assistant municipal commissioner of K west ward, Vishwas Shankarwar, said the source of contamination was in H west ward. "To my knowledge, the ward has fixed the problem. However, if if the problem still persists, I will look into it," Shankarwar said, adding, that to push out the residual water in the pipelines, flushing was essential.