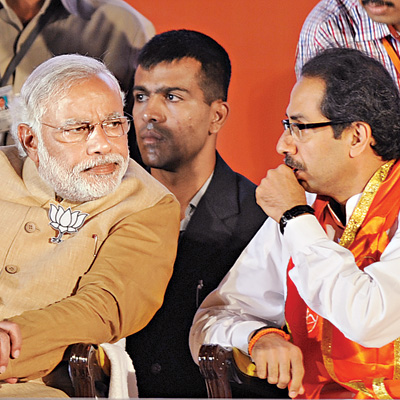 Shiv Sena has called on the Narendra Modi-led dispensation at the Centre to take the battle into Pakistani soil as that country had been violating ceasefire on Line of Control (LoC) with impunity.
Incidentally, Sena's hawkish Sena vis-a-via Pakistan had led to bitterness with its saffron ally. Modi is said to have conveyed his displeasure to Sena leadership on comments regarding "sari and shawl diplomacy" with Pakistan.
Saamna says
"Calling off secretary-level talks won't help. (We must) enter their territory and hammer them," said a Saamna editorial on Monday. Sena president Uddhav Thackeray is the editor and Rajya Sabha MP and spokesperson Sanjay Raut is Saamna's executive editor.
"Prime minister Modi is not one to tolerate Pakistani antics; but all expect an act of mardangi (bravery) wherein Pakistan's tail will be set afire and their impure rule brought to an end. If there was such massive firing on the border while the Congress was ruling and people had been killed, we all would have pounced on them (Congress). People expect concrete action from you. It's our request to the Centre to show that mards are ruling in Delhi," the editorial added.
'Sari and shawl' diplomacy
Raut had earlier slammed the "sari and shawl" diplomacy with Pakistan after an Indian jawan was killed in Pak firing along LoC in Jammu district. The jibe referred to Pak prime minister Nawaz Sharif's gesture of sending a sari for Modi's mother. Modi had gifted a shawl to his Pakistani counterpart's mother when Sharif had visited India for his (Modi's) swearing in ceremony. Modi is said to have conveyed his anguish to Uddhav over the comment.
"Talks with Pakistan are akin to slamming a stone on our own foot," said the editorial, welcoming Centre's decision to call off foreign secretary-level talks after Pakistan high-commissioner Abdul Basit had invited Kashmiri separatist Hurriyat leaders for consultations.
Slamming Sharif
The editorial, noting that this was the largest ceasefire violation since 2003, referred to the deaths of Indians in the shelling by Pak troops, which had also led to villagers in the region being displaced.
"People wonder why we are quiet like a damp cracker when ceasefire is being violated?" the editorial noted, slamming Sharif. "Of course, he is not at fault. Such treachery is in Pakistan's blood. The creation of Pakistan was based on that principle and it's because of this betrayal that Pakistan has been unstable from its birth," Sena said, noting that Sharif was also in a shaky position due to protests by cricketer-turned-politician Imran Khan's PTI and Pakistan-Canadian cleric Tahir-ul Qadri.