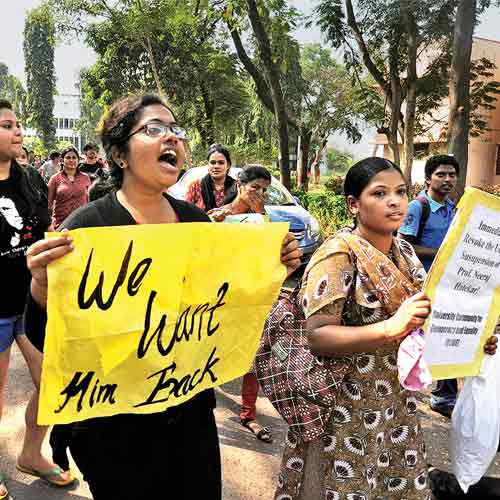 Neeraj Hatekar, a professor in the economics department of the Mumbai university who was suspended last week, has approached the Bombay high court alleging that his suspension is "patently illegal". Hatekar has sought that his suspension be set aside.
The university had on January 4 issued a letter of suspension to Hatekar for allegedly misinforming the media about irregularities by vice-chancellor Rajan Welukar and, hence, breaching the code of conduct.
Hatekar had held a press conference on December 12, 'exposing' Welukar for mismanagement of the university.
The petition filed by Hatekar states that the VC cannot suspend him. The decision of suspension has to be taken by the management council of the university.
Also, he told the court that a format has to be followed for suspension. "In the suspension letter issued to me, the format has not been followed," said Hatekar.
The letter said he was being suspended for "violating code of conduct" and "moral turpitude".
One of the members of the managing council has condemned the decision to suspend Hatekar. "This shows that the decision was not unanimous. I was just suspended because the VC was angry," alleged Hatekar.
Also, he claimed that 48 hours prior to taking the press conference, press notes had been circulated among all the members of the university. "If they found it offensive, they should have informed me in advance," said Hatekar.
AAP supports students' protest
Students of the university once again took to the streets on Wednesday demanding the reinstation of professor Neeraj Hatekar, this time with the support of the Aam Aadmi Party
"From 8.30am, we blocked the university's entrance and carried out a procession to press for our demand. We wanted to meet the vice-chancellor but he decided not to meet us," said Amogh Gadabe, research assistant in the economics department
The students were joined by AAP leader Mayank Gandhi. "Prof Hatekar dared to expose corruption in the department and as a result, he had to face the backlash of the system.
AAP finds it shocking that the VC can get away with a blatant misuse of his powers," said a press statement issued by AAP.