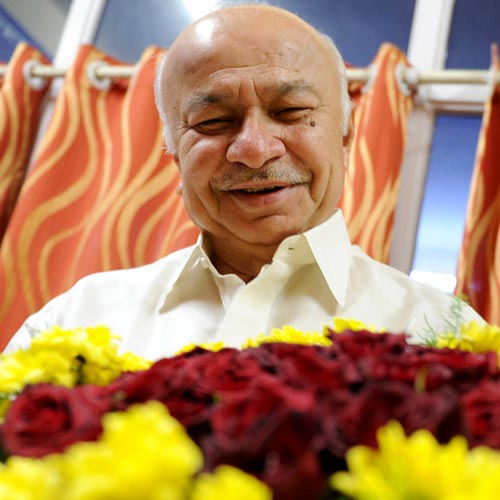 The row between Union home minister Sushilkumar Shinde and former Union home secretary RK Singh has intensified. And it turns out that the prominent businessman, with alleged links to India's most-wanted criminal Dawood Ibrahim, Singh referred to is a controversial real estate developer from Mumbai.
This particular businesman has been on the IB radar for several years. In fact, he had in the past levelled allegations against IB officials in a case relating to him.
"I will return to Delhi tomorrow and go through the verbatim report (of Singh's allegation). I will be able to respond to his charges only after that," Shinde told dna from his constituency in Solapur on Tuesday.
The Congress dismissed Singh's allegation and questioned his motive of speaking against Shinde after joining the BJP. Union minister for information and broadcasting Manish Tewari said the charge was politically motivated. BJP spokesperson Ravi Shankar Prasad, however, demanded the home minister's resignation.
Dawood is known to be close to several politicians in Maharashtra. In fact, he is known to have some of them as his benami business partners in several real estate and other ventures in Mumbai and elsewhere. However, this is the first time that a senior leader like Shinde has been accused of coming to the rescue of a businessman close to the underworld don.
In the recent past, Shinde has spoken about nabbing Dawood and bringing him to India. Recently, he said the services of the FBI will be sought to track down Dawood and extradite him to India, a statement which had drawn ridicule from the don's henchman Chhota Shakeel.
Police sources said Singh's allegation may spur Shinde to step up efforts to nab Dawood just to prove the former home secretary wrong. Dawood is believed to be in a safe house of the ISI and has restricted his movements even within Pakistan.
Ex-secy takes on Shinde
Former Union home secretary RK Singh has accused Sushilkumar Shinde of attempting to stop the Delhi police from interrogating a businessman with links to Dawood Ibrahim. After Shinde recently spoke about nabbing Dawood, the underworld don's chief lieutenant Chhota Shakeel, who is in Pakistan, challenged the home minister to find out his whereabouts.