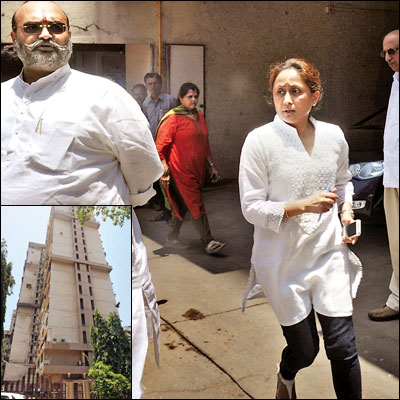 Even as the Supreme Court on Monday refused to give any relief to the residents of illegal flats in Worli's Campa Cola compound, the Brihanmumbai Municipal Corporation has said it will float tenders for razing the unauthorized portions in a day or two.
The civic body has said though a proposal in this regard is expected to be tabled before the standing committee for its approval in two months, it is likely to begin the demolition work by deploying its labourers from June.
Additional Municipal Commissioner Mohan Adtani (city) said the 'BMC can very much carry out demolition during monsoon'. The civic administration is set to serve eviction notice on the residents on May 29 – 48 hours before the deadline to vacate flats.
"The BMC doesn't remove encroachment or raze slums during rainy season on humanitarian ground. But we have specific orders in this case. It will take us another two months to appoint a contractor. So, meanwhile, we are likely to go ahead the work with our team of labourers," Adtani said.
While the BMC is likely to work out a detailed plan on how to go about the demolition drive by Tuesday, it has already prepared a rough plan. It will take a year's time to demolish the 90-plus illegal flats at a cost of about Rs 2 crore.
An official said BMC plans to carefully bring down non-structural members like slabs and internal walls during rains with the help of its staffers. The BMC has reiterated it will ensure legal flats, staying up to fifth floor in each of the seven buildings, will not be harmed during the drive.
"We will ensure that the structural stability of the buildings is not affected. While we will shut operation of lifts in the buildings, we will bring down water tanks up to sixth floor so that authorized flat owners are not inconvenienced even as we go ahead with work," the official said.
The official also said that they would be targeting one building at a time and erect scaffolding. He said, "This will lessen nuisance to the legal flat owners and give us more space to work. Also, since the material cost will be on lower this time, our expenses will remain the same."