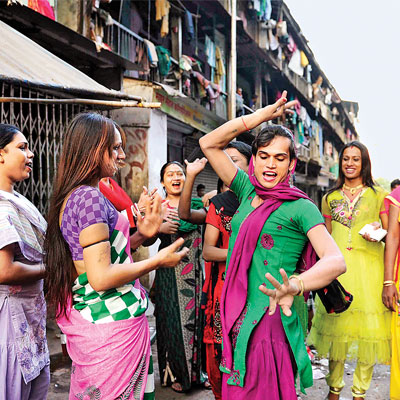 When the Supreme Court delivered its landmark judgment on Tuesday recognising the transgender (TG) community as a third gender, there were celebrations all over the country.
But nowhere would they reverberate as much as in Mumbai which has been at the forefront of this struggle for equality and dignity. After all it began with a PIL filed by Gauri Sawant, 36, and Ernest Noronha (Meera) of Sakhi Charchowghi, an NGO headquartered in Mumbai that works for the TG community.
The ruling has been welcomed by not only the community but also human rights groups who are happy that the court underlined their long-standing demand for equality and integration. "We hope the government will make a start by at least enumerating us. Without that, it's convenient to simply deny our existence," said Gauri Sawant.
Arguably the most well-known face of TG rights activism, Laxmi Narayan Tripathi was busy on the phone exchanging congratulatory messages in Hijra Farsi, a language unique to the community.
"This judgment is a great step towards ending the discrimination of tens of thousands of transgenders in India, who are marginalised, exploited, ostracised, discriminated, abused, and often forced into prostitution to survive," said Tripathi, whose organisation Astitva too had filed a PIL. "In a way the highest court of the land has re-affirmed that we too are citizens and have right to dignity."
According to Tripathi, the SC two-judge bench's underlining that "recognition of TGs as a third gender isn't a social or medical issue but a human rights one", is significant. "The SC has upheld that we too are citizens of India and spoken about how the Constitution provides equal opportunity to all citizens to grow and achieve their potential, irrespective of caste, religion or gender. This should be the guiding principle for all intervention strategies being planned for the community."
The petitioners' lawyer Sanjeev Bhatnagar told dna: "This ruling will mean all identity documents, including birth certificates, passports and driving licences will have to recognise the third gender, along with male and female... The government will also have to reserve public sector jobs, seats in schools and colleges for third gender applicants."
Amid the celebrations and euphoria, Sawant struck a wary note too. "This needs to go beyond establishing our gender identity on documents. Even as we celebrate we must prepare for the battle ahead which will be more uphill." Sawant pointed out how most intervention strategies tend to focus on gays and lesbians as groups. "We have to change the myopic understanding of gender as being three watertight compartments of male, female and others. For, as long as that happens many will continue to remain marginalised and ignored."
It may be recalled that the apex court had come in for lot of criticism from human rights and LGBTQ activists when it reinstated a ban on gay sex between consenting adults, following a four-year period of decriminalisation that helped bring homosexuality out into the open. "This new ruling on transgenders should show the path to the new Parliament to repeal the anti-homosexuality law as one of its first actions," said TG equal rights actvist Amruta Shinde from Kolhapur.
In October last year Maharashtra CM Prithviraj Chavan formed a transgender welfare board in the state after the first-ever public meeting for transgenders (TG) in Mumbai. "I'm not only the CM of a privileged few, but of the entire state. And the state cannot forget people living on the margins like the TGs," he had said.
Along with creation of a special art academy for the community, Chavan had also announced the creation of special award for organisations and activists working with TGs and financial aid for those making films or plays highlighting their plight.
All those announcements and his promise that the state would look into their social security aspects in the form of voter ID cards or aadhar cards, property inheritance rights, adoption rights and the right to contest elections have remained just that.
What it means for TGs
Due to this ruling, the government will have to change the way all identity documents are created. Birth certificates, passports and driving licences will have to recognise the third gender, along with male and female. It will go a long way in enumerating community members to help with planning intervention.
What they want
No demarcation on transgenders, hijras and other groups. Apart from gender identity, community wants reservations in school/college admissions and jobs too. Negotiating this may not be easy poltically as other groups like OBCs and EBCs may resist.