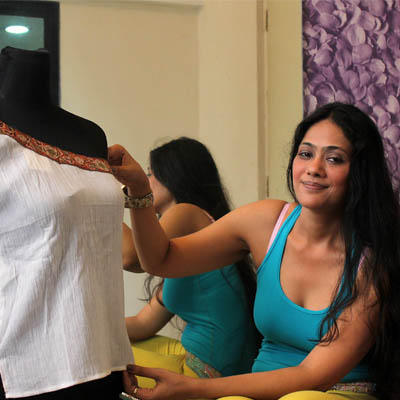 It is time for fashion bugs in the city to flaunt cool, yet vibrant colours and soft fabrics for a breezy feel. Fashionistas in the city clinch monochromes, light pastels, citrus and nautical colours to be in vogue in the spring/ summer collection. Make sure to pick light and airy fabrics that keep you comfortable even in this searing heat.
Sanaa Khan, a Vashi based fashion stylist, picks out monochrome and light colours like baby and powder pink for women, in sheer fabrics. As for men, she feels burnt orange, dark purple, teal, powder or placid blue would be suitable. "Art pop prints that includes a mix of images or patterns are in, so are tribal prints," says Khan; adding that work-friendly denims that are also known as boyfriend jeans, are ideal for summer with loose and light feel. Linen, khaki, cottons are also apt for men. Holographic material in skirts or tops come with a a lot of shine and thus are best as party wear. Crop tops, baggy or low pants can be picked up for casual wear."
As an option for traditional outfits, that are otherwise heavy and sticky to wear in summer; Khan recommends high waist lehengas that come with a choli that is similar to crop tops.
Vashi based designer Sonal Bansal deems that light pastels, mixed with bright tones will make for a good combination. "Royal blue and ash grey when blended with off whites, beiges, will give a subtle, yet vibrant look. As for fabrics, I have used cottons, artificial georgettes, hosiery mixed with chiffon as these will be light and flowy," she says. Digital prints is her pick for casual wears.
As for functions and special occasions she says georgette saris would be befitting. "A simple printed pallu with a heavy hand embroidered and stylish blouse will be a good contrast. Or a plain sari with embellishments in the blouse," says Bansal who has her boutique Vetements in Sun Elegant building,sector 28.
For Priyanka Betgari, a designer based in Nerul cites,"Citrus colours like tangerine, yellow, orange, coral to be in vogue this season. One can mix and match with cool colours like aquamarine, light blue and nautical colours like navy blue, red and white," she says adding that apart from cotton and linen, fabrics like cambric, voile, rayon would be most suitable as these are extremely soft and lightweight.
She suggests a variety of colourful prints that can give you the chic look. "Aztec and tribal prints will be great to sport, apart from tie and dyed colourful patterns. Woven Ikat patterns will give an ethnic look," she said.
She goes with ruffled tops or skirts, tops with asymmetrical cuts and jumpsuits for women. "For men, linen jacket and shorts, linen pants or trousers, bermudas for casual look would do good," she adds.