Step-brother of the late Bohra head proclaims himself as the new chief.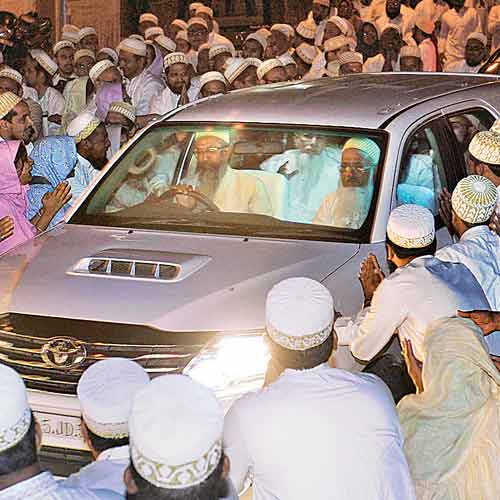 Three days after the spiritual head of the Dawoodi Bohra community, Syedna Mohammed Burhanuddin, passed away, a controversy has erupted over his successor. Khuzaima Qutbuddin, Syedna's half-brother, posted on his website (http://fatemidawat.com) that he was the real successor and declared himself as the 53rd Dai-ul-Mutlaq.
The Syedna passed away after suffering a cardiac arrest on Friday. He was 102. He had anointed his second son Muffadal Bhaisaheb Saifuddin as his successor in 2011.
Qutbuddin's unilateral claim has not gone down well with the 2-5 million-strong Dawoodi Bohra community. The Bohri Jamaat met on Monday and decided to excommunicate him from the community. No member of the community, however, was willing to confirm if Qutbuddin had indeed been removed from the community.
The message on the website read: "Syedi Mazoon Saheb Khuzaima Bhaisaheb Qutbuddin TUS has disclosed that he is Syedna Mohammed Burhanuddin Saheb's true mansoos. Aqamola performed nass (investiture) on him 50 years ago, in private, when he appointed him Mazoon on 17 Shaban 1385H, saying 'Maara pachhi bhai Dai chho (after me, the Dai will be my brother)'. He instructed him not to reveal the nass till the appropriate time. Syedna Burhanuddin also said that azamat wastey mumineen bhai ne sajdo karse, bhai karva dejo; pachhi [sajda ni maana] zahir thase."
The nass, once performed, can never be retracted, according to the message on the website. It further stated: "Syedna Khuzaima Qutbuddin is Syedna Mohammed Burhanuddin's true mansoos and now the 53rd Dai al Mutlaq."
Qutbuddin's son Abdeali told dna on Sunday that his father was the rightful successor to the Syedna. "The investiture was done on him more than 50 years ago," he said. Abdeali said they were not present for the Syedna's last rites as they wanted the funeral to be peaceful.
Qutbuddin remained unavailable for comment on Monday. However, the new Syedna's spokesperson dismissed Qutbuddin's claim. He told dna that the nass performed on Mufaddal Saifuddin was the true one and that he has three witnesses to prove it. The spokesperson claimed that the entire community was with Mufaddal saheb.
Next in line
Syedna Mufaddal Bhaisaheb Saifuddin, 70, has taken charge as the the 53rd Dai-ul-Mutlaq of
the Dawoodi Bohra community. The previous Syedna had decided in 2011 that Saifuddin, his second son, would succeed him.