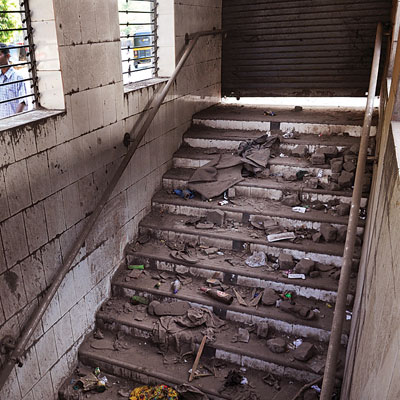 Even five years after its completion, a subway at the CST-Kurla Road on the Eastern Express Highway remains shut, forcing hundreds of pedestrians to cross the busy highway and risk their lives.
Built at a cost of Rs2 crore by the Mumbai Metropolitan Region Development Authority, the underpass has turned into a breeding ground for mosquitoes, apparently due to lack of coordination between the state infra body and the public works department.
The 45-metre route lies under a six-lane flyover on the highway and is located near the Kurla signal.
Ramesh Kumar, a local shopkeeper, said he has no clue when the subway will be opened. "We have been waiting to use the subway ever since it was constructed. At least, it will help us safely reach the other side of the highway, avoiding speeding vehicles," he said.
Kumar said that water and dirt had accumulated inside the subway. "It is stinking and has become a breeding ground for mosquitoes and insects. The situation gets worse during rains," he added.
A PWD official said the pedestrian pathway could not be opened to the public because of water leakage from a nullah and a channel that carries industrial waste on the eastern side of the road.
"One end of the subway meets a service road from where water from the nullah and the sewerage lane seeps into it. However, our staff has started cleaning the subway from Thursday," said a PWD official.
The official added that the department is also coordinating with the traffic police on this. "Since there is a flyover just above the subway, the vehicular traffic on this part of the highway is thin. However, we will ensure that the subway is opened at the earliest," said the official.