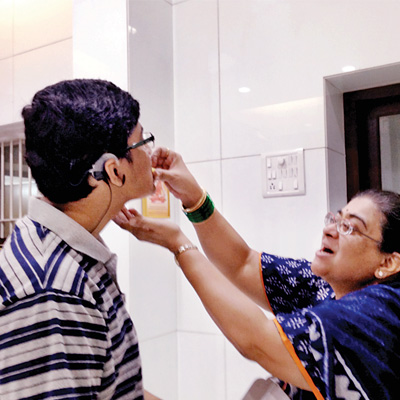 It was difficult for Abhishek Konale, to convince the administrators at the JEE (Advance) exam centre to with his bilateral cochlear implant. Even after approaching the authorities of JEE (Advance), Konale's family had to take help of CM's wife Satvasheela, whose intervention at the right time helped Abhishek to appear for the exam without removing his cochlear implant.
Now with Satvasheela's insistence, Konale's family will now send a notice to the disability commissioner. The family has decided to approach the court to have a rule passed to allow students with implants to appear for exams.
Abhishek bagged himself a seat in IIT-B.
Gurusidhappa, Abhishek's father said, "We had met Satvasheela on July 3, to thank her for her assistance. She in return asked us to fight for the rights of other students like Abhishek. Satvasheela also helped us with a lawyer. "
Abhishek, suffered a sudden hearing loss two years back, when he was about to appear for his SSC exams. He later got cochlear implant of Rs17 lakh.
"Before the JEE (Main) exam, we had decided to write to the CBSE officials, to allow him to write the exam with the implant. But the request was rejected. That's when we approached Dr Hetal Marfatia, professor of ENT Department in KEM Hospital," said Gurusidhappa.
To ensure he is allowed to wear the implant while appearing for the May's JEE (Advanced), Dr Marfatia, helped the family get certificates from three institutes - KEM Hospital (where the surgery took place), Ali Yavar Jung National Institute for the Hearing Handicapped (where he was getting the auditory-verbal therapy) and Sir JJ Group of Hospital. Seeing the certificates, the board allowed him. But on the day of the exam, the officials at the exam centre blatantly refused. "The officials at the centre said that the implant has no role to play for writing exams and it can be misused. We immediately made some calls to higher authorities and to the CM office and thankfully it worked," said Dr Marfatia.