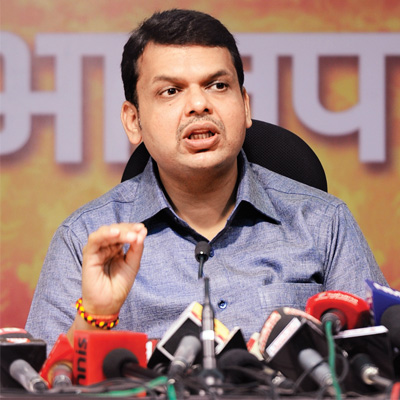 The Maharashtra assembly elections are at least three months away. But the demand for the BJP ticket is visible, with aspirants sending groups of their supporters to lobby with the party leadership. However, the leaders are concerned about this trend and they are cautioning party men that this would not win them the candidature.
"Supporters of these aspirants from various communities are lining up to meet senior leaders, to convey that they will support a particular person if he is chosen as the party candidate. This creates a lot of pressure on the party leaders," says a senior leader.
He gave the example of one such aspirant who had already published a booklet listing the support of prominent people from various communities in the constituency from where he hopes to contest the polls.
"Don't send these delegations with recommendations. It may go against you," Devendra Fadnavis, BJP state unit president, said at a party executive committee meeting last week. "The party will consider candidature objectively, after undertaking a scientific survey and together with local intelligence and the approach of the person in an interview."
But party members believe that if they do not project themselves they risk being left out. This fear stems from a rush of political workers signing up with the BJP ahead of the elections in the hope of getting an election ticket.
At the leadership level too, the BJP has decided to entrust the poll management to a committee of four senior leaders – Fadnavis, Vinod Tawde, leader of the opposition in the legislative council, Eknath Khadse, leader of the opposition in the legislative assembly and Sudhir Mungantiwar. It hopes that this would mitigate any rift between competing factions.
It is said that Fadnavis, who is close to Narendra Modi, had become stronger with the sweep in the Lok Sabha elections and that he was being considered as a contender for the post of chief minister in the event of the saffron alliance winning the state polls.
While Tawde is from Mumbai, Fadnavis hails from Nagpur, Mungantiwar is from Chandrapur and Khadse is from Jalgaon. So the new arrangement should help balance the pulls.
As part of the campaign strategy, the party plans to set up 80,000 booths in the 288 assembly constituencies and appoint activists who will be responsible for reaching out to voters in their area.
Social and digital media would be used extensively, like in the recent Lok Sabha election. The persons in charge of the booths would be trained to use social media to help them reach the last voter and aggressive campaigns will be planned for each of the candidates.