Not to be left out, table tennis player Lotikar struggled his way up after amputation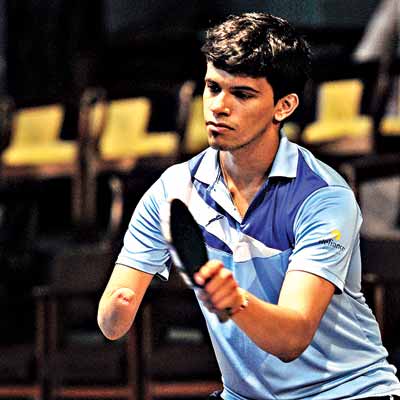 Om Lotlikar was all set for a day of colours on Holi, 11 years ago, when a slab fell on his right hand.
Gangrene soon set in and his righ hand had to be amputated; Lotlikar was 10 then. One of the first things he had to learn was to write with his left hand. One of the things that didn't change was his love for table tennis.
It was nothing but a pastime for him then, but the game has seen Lotlikar, now 21, go places. August has been a busy month for him as he spent the first week in Pataya, Thailand, at a paralympic table tennis competition. The month could even get better if he gets into the Indian team to the Asain Games in Incheon in October this year for the 2014 Asian Paralympic games after winning the selection trials held in New Delhi on August 8/9. "I'm waiting for the authorities to confirm my presence at the games," said Lotlikar.
On the occasion of World Left-handers day, Om Lotlikar has made sure left is the right way to go.
The initial years to get used to a life with only the left hand was a struggle for Lotlikar. "I was in no mood to do anything after the accident. I felt like quitting. Slowly it sunk in that I have to change my writing hand. Eating, writing, reading, throwing, catching everything changed. In all of this, my mother motivated me to not let go of the sport I loved the most — table tennis. She stood behind me like a rock... I just had to get over my accident mentally."
Lotlikar's mother runs a tiffin service from their residence in Charni Road while his father works in a courier company.
Serve and balance were the two aspects of the game Lotlikar had to work on and still needs improvement. While normal players use their non-playing hand to serve, Lotlikar holds the racquet and the ball in his left hand, tosses the ball at the right moment depending on how and where he wants it to land. "My forehand is my biggest strength. The only area where I need to improve my game is my balance in the game... I have to make do with what I have and that shows in the training and practice sessions."
Years of struggle, hardwork and determination have finally bourne fruits for the commerce student of HR college who is waiting for admission into a law college. He lost in the pre-quarters of the 3-star Mumbai city district table tennis tournament at Malabar Club on Tuesday, but he won many hearts. With most of the participants being from the Maharashtra Level Welfare board academy in Lower Parel where Lotlikar practises seven hours a day, it comes as no surprise to see him offering tips to youngsters constantly motivating them from the side.
"Table Tennis has made me more outspoken. The sport has given me the recognition. My friends and family are proud, but they are the reason why there is a big difference between someone without a right hand and a TT player who will only get better."