Seat belt must for all passengers?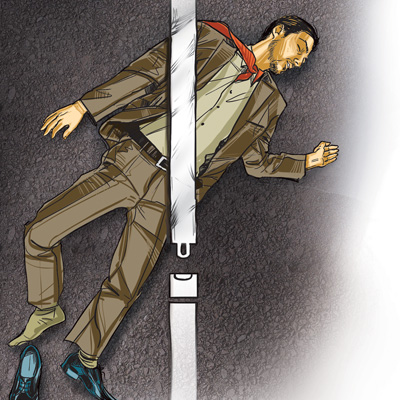 Following the death of union minister Gopinath Munde in a road accident on June 3 in New Delhi, union minister for health Dr Harsh Vardhan suggested that all passengers travelling in a car be mandatorily be asked to wear seat belts. Munde was sitting in the rear seat and was not wearing the belt. It was suggested that he might have survived if he was wearing a belt. dna spoke to experts and motorists in this regard:
A very good suggestion. Once I got a chance to travel with the president of the Fédération Internationale de l'Automobile Jean Todt in the rear of his car. He insisted that I wear the seat belt. I didn't understand its importance till I met with a minor accident in India.
—Nitin Dossa, president of Western India Automobile Association
It is difficult to ask passengers in the rear seat to put on safety belt, especially when they are on a short trip, say from Nariman Point to Churchgate. There is no doubt safety is important, but implementation of the minister's suggestion is difficult.
—A L Quadros, president of the Mumbai Taximen's Union
A very good recommendation and it should be implemented. In fact, people should appreciate the fact that it is done for their safety and they should willingly cooperate with the government.
—V N More, transport commissioner
Whenever I go out of Mumbai in a car, I wear the seat belt, even if I am sitting in the back seat. It will be good if it is made compulsorily whether you driving within the city or outside.
—Anand Rao, automobile dealer
According to the union surface transport minister, 1.38 lakh people died and 5.09 lakh were injured in road accidents in 2012. Every step aimed at reducing the number of road mishaps should be welcomed.
—Dr Daisy Alexander, principal, Rizvi Law College
Even in slow-moving traffic there is a possibility of suffering injuries if there is a jerk. Seat belts should be designed keeping women and children in mind.
—Uday Wavikar, Sr Advocate, Consumer Forum
It is a good decision, but it should not become another avenue for policemen to extort money. There is should be discipline and the rule should be applied uniformly to all citizens.
—Anand Patwardhan, president, Bar Council Consumer Forum
Belt laws in other countries
Germany
All vehicles in Germany are required to have seat belts for all persons in the car and the passengers must wear them. An exception is made for back-seat passengers in old cars that were not originally equipped with rear seat belts. Children under 12 can't ride in the front seat of a car and must use car seats certified by the government.
UK
Citizens must wear a seat belt if one is fitted in the seat they're using. Only one person is allowed in each seat fitted with a seat belt. Children must use the correct car seat for their weight until they reach 135 centimetres tall or their 12th birthday, whichever is first.
US
Seat belt legislation is left to the states. In most states, safety belt is mandatory for all passengers. However, about one third of the states, the law is considered a secondary offence. This means authorities cannot stop and fine a driver for the sole offence of not wearing a seat belt.
The Chinese T trick
In 2013, Chinese media reported how motorists were taking authorities on a ride by wearing T-shirts that had an image of a seatbelt printed across the front. However, the trickery did not last long, especially after advertisements about the 'seat belt' apparel started showing up in public domain. Authorities then issued traffic advisories, warning people of the perils of unsafe driving.