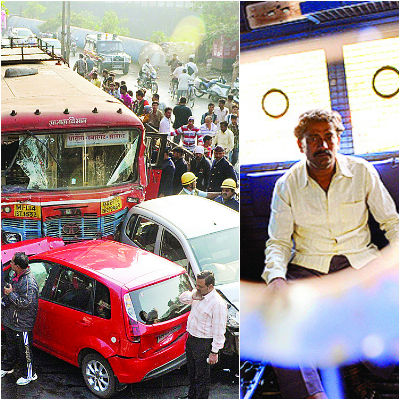 Before ST bus driver Santosh Mane mowed down nine people and injured 36 in 2012, he was undergoing psychiatric treatment as he heard voices in his head which said the world was coming to an end.
This was argued by advocate Jagdish Mane before the Bombay high court while opposing the death sentence awarded to Mane by a Pune sessions court in December 2013. Pleading insanity, Mane had sought to be re-examined by a psychiatrist or any doctor from outside Pune to prove he is of unsound mind.
A division bench of justices VM Kanade and PD Kode is hearing the petition filed by state government seeking confirmation of Mane's death sentence and the appeal filed by Mane.
On a court query on Mane's mental state, the prosecution said he had last undergone treatment in 2010 and that doctors have confirmed that he was of sound mind at the time of the incident.
However, Mane's counsel alleged that at the time of his remand, the police had failed to take into consideration the report of a doctor at Pune's Sassoon Hospital who had said that Mane's case needs to be referred to a psychiatrist. "The police suppressed this fact while taking his remand before the magistrate," he argued.
To this, justice Kanade said the police have the right to conduct their own independent inquiry apart from relying on medical records. "Irrespective of the findings of the doctor, the police have to conduct their inquiry, especially when nine people have been killed and 36 (have been) injured," he remarked.
The judges raised the query as to why Mane had not opposed the order passed by the magistrate and sessions counsel turning down his application seeking leniency by making an insanity plea.
HC will continue to hear the appeal on Thursday.
Case recap
On January 25, 2012, Mane hijacked an empty state transport bus from the Swargate depot in Pune and sped off on the wrong side of the road catching oncoming traffic and people unawares
Mane rode for about 25 km during which he rammed into moving and stationary vehicles and pedestrians. He was later nabbed by the police
In December 2013, the sessions court in Pune awarded him death penalty for mowing down nine people and injuring 36 others