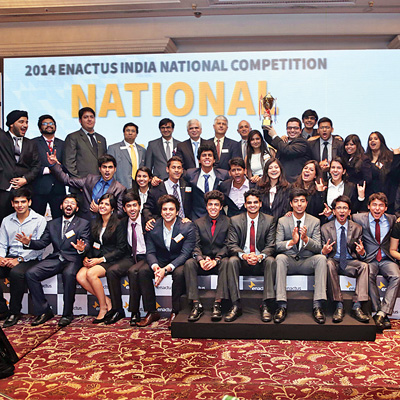 The competition was tough, but the second year BBS students of Shaheed Sukhdev College of Business Studies (SSCBS), Delhi who impressed the jury took home the first prize at Enactus India National Competition, 2014 that concluded in Mumbai on Wednesday.
Teams from IIT Delhi and Dr SS Bhatnagar UICET, Chandigarh came second and third, respectively in the competition that saw 62 college teams from across the country participating. The members of the jury were mostly from leading corporate houses including ZEE Group, Tata Group, Wal-Mart India, Mahindra & Mahindra, HUL and advisory firm KPMG. Syntel Inc, Nasdaq listed IT and KPO firm, was the presenting sponsor of the event.
Speaking to dna money, Leuuba Chopra, second year BBS student and head of communication, SSCBS team, said: "We were confident our initiatives would stand out and we are happy our efforts have been appreciated."
In its 10th year, Enactus India is the local arm of Enactus, a global organisation that brings together students, academics and business leaders committed to using the power of entrepreneurial action to empower people.
According to Farhan Pettiwala, president, Enactus India, the SSCBS team will represent India at Enactus World Cup in Beijing, China this October. The event will see 36 winning entries from across the globe taking part.
This year quite a few corporate houses including ZEE Group and Mahindra & Mahindra associated themselves with the Enactus event. Roland Landers, head, corporate brand, Zee Entertainment Enterprise Ltd, said: "The content presented by the students was impressive. As a pioneering media brand, we see this initiative as a great grooming ground for future entrepreneurs and will be partnering with Enactus in a big way."
Anand Mahindra-promoted M&M Group that began associating with Enactus nine months ago, sees this as an opportunity to do social good. Rajesh Jejurikar, chief executive, farm equipment and two-wheeler division, M&M Ltd, said: "We are identifying with Enactus in terms of geographic areas and themes that can be evolved with their support. We have a large rural connect, and this presents us a good way to do social good and create a better business and brand connect."
Speaking to dna money, Rajneesh Kumar, vice president, corporate affairs, Wal-Mart India, said: "The teams that took part showed great energy and passion. The Wal-Mart Women's Economic Empowerment Project Partnership with Enactus aims to educate and empower women," said Kumar.
Involved with Enactus since 1990, KPMG has played a pivotal role in helping Enactus go global, supporting it in over 30 countries. Congratulating the winners, Richard Rekhy, CEO, KPMG India, said: "It's truly inspiring to see the impact students are having in communities across India."