20-year-old visited girl who was unwell at her home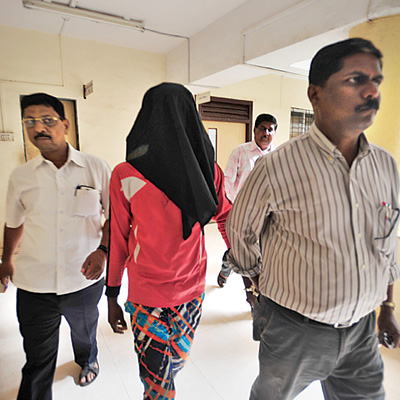 A 20-year-old, in a fit of rage, attacked a girl with a knife at her home in Chembur, after she spurned his advances on Tuesday.
The girl suffered a gash on the neck and is being treated in hospital, where her condition was said to be stable.
The youth apparently escaped and tried to hide in a tall new construction nearby. When he realised he could be caught, he climbed to the top and threatened to jump off.
After some persuasion, policemen and fire brigade men managed to bring him down. He has been arrested and charged with attempt to murder.
"We have registered a case of trespass and attempt to murder against the youth and will wait for the girl to recover so we can record her statement," said Dhananjay Kulkarni, deputy commissioner of police who is holding additional charge of zone VI.
The RCF police said Ajay Balu Dhotre decided to visit the girl at her home in Ayodhya Nagar after he learned she was unwell and had not gone to college. He lives in the neighbourhood and had known the girl for some time.
"We learned that Dhotre had tried to meet the girl twice before on her way to college and expressed his desire to get into a relationship," said a police official. "But the girl rejected his proposals and this left him fuming."
On Tuesday morning, he talked to her again at her home. But the girl told him to get out of the house. Then he attacked her with a knife.
As the girl collapsed, Dhotre ran away from the spot.
Some residents, who had spotted him entering the building, informed the police who began to look for him. As the cops reached the 22nd floor of the 23-storey construction, fearing he would be caught, Dhotre threatened to jump off.
He would not listen to the pleas of his family members who came to the spot. The policemen called in the fire brigade and together they persuaded the youth to come down.