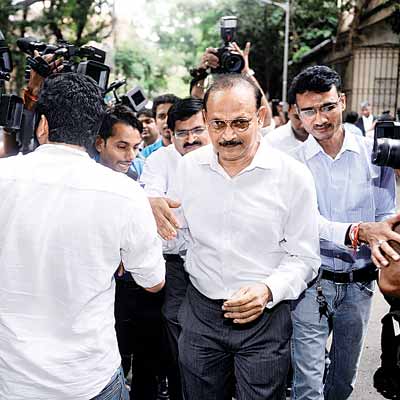 In a relief to IPS officer Sunil Paraskar, accused in a rape case, the special women's court granted him anticipatory bail on Tuesday.
"It appears from the behaviour and e-mails (of the complainant) that the act must have been committed with consent. It also appears from the e-mails that the complainant was suspicious the IPS officer was having relation with some other model and that could be the reason for her to register a complaint against him," held the court presided over by judge Vrushali Joshi.
Paraskar's counsel advocate Rizwan Merchant, while advancing the arguments before the court, said that as per the complainant, the IPS officer on December 1, 2013, had molested her and, on December 7, 2013, had raped her, but the fact remains that the victim did not resist the act, nor did she raise an alarm.
"The victim, in her complaint, mentioned that when the officer took her to the bungalow in Madh, he first behaved indecently with her on its first floor. However, after a while, both of them came to the ground floor and he had alcohol. On both the occasions, the complainant did not resist him. Also, the complainant claimed that the officer raped her, but even then she did not resist him," said Merchant.
The judge, after going through the evidence, held that it is clear the complainant and the officer used to meet each other in different places and that too in a friendly capacity. "As per the victim, the accused had raped her on December 7, 2013, but it was observed that even after that day, she was friendly with him, and they also exchanged gifts. He gifted her an iPhone, while she gifted him an expensive wallet. This creates a doubt about her version. ...it is clear the act must have been committed with consent," maintained the court.
Saying he had faith in judiciary, Paraskar said, "No doubt I had accompanied her to two places, but it was only as a friend. However, I feel that the crime branch will find out the facts of the case."
Meanwhile, the court reserved the order on the perjury complaint filed by the complainant's advocate Chitra Salunke against Paraskar for making false statement against the victim before the court while seeking interim protection to August 21.
Salunke said she will approach the Bombay high court and file an appeal against the sessions court order.