Ram Niwas Pal, who helped launder funds, had been living under another alias.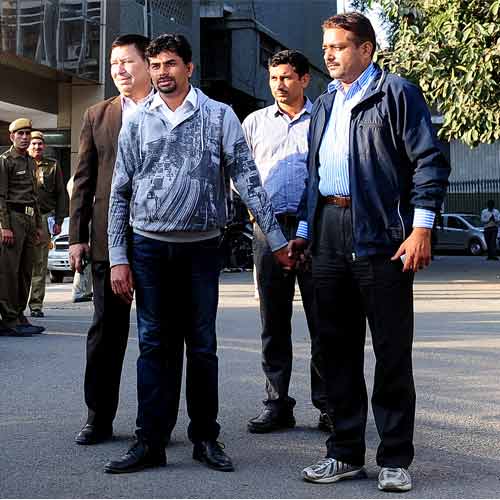 The New Delhi police have arrested another accused in the Rs2,200-crore Speak Asia scam, in which at least 24 lakh investors from across the country had been cheated.
Ram Niwas Pal, 40, was arrested from Bangalore, where he had been living under another alias.
Ram Niwas was the one buying companies based abroad and making contacts to launder money through them. While in Bangalore, he had been developing a business plan for a Malaysia-based IT firm and trying to get a 'Certification of Popularity' for the online advertisement of various websites.
Over a decade ago, he was employed with the Indian Air Force and had faced court-martial for deserting the force without any intimation in 2001.
His brother, Ram Sumiran Pal, was arrested from Dehradun last week. The third main accused, Manoj Sharma, is at large.
After escaping from Mumbai, Ram Niwas stayed in Delhi after which he moved to Lucknow and then Bangalore. To conceal his identity, he managed to get fake identity proof under an assumed name, and also changed his appearance. He also cut off contact with his family, friends and acquaintances.
Speak Asia, an online survey marketing firm, sold web subscriptions for Rs11,000 each and in return, investors had to fill survey forms for multinational firms. It promised an annual payment of Rs52,000. After paying few investors, Speak Asia folded up in India
After over two years of investigation, the Economic Offences Wing (EOW) of the Mumbai police has frozen more than 210 bank accounts containing over Rs142 crore, and another 150 accounts are under scrutiny.
The EOW has found a trail of over Rs750 crore being laundered across various countries like Singapore, Dubai, Italy, UK and Brazil, among others.
According to the police, Speak Asia had remitted over Rs900crore to Singapore. "The money was sent from India to banks in Singapore and from there to Dubai, Italy and the UK. The money came back from the UK again to UAE (Dubai) and back to India," according to a release issued by the Delhi police crime branch.
Con scheme turns into a scam
SpeakAsia, a Singapore-based online survey firm, allegedly cheated people of crores of rupees by promising huge returns in exchange for taking part in its surveys
Once members registered themselves on the site by paying up a signing fee of Rs11,000, SpeakAsia allowed them to respond to market research for its clients, said the police
Members also earned reward points for giving opinions on products. These points could be encashed later.
According to information from the Income Tax dept and Enforcement Directorate, Rs600crore was siphoned off by the company. Its franchises collect money for the company and then give it to three other companies, who then transfer the funds abroad
The FIR was registered by the EOW based on the complaint of an investor on July 28, 2011, who lost at least Rs6lakh, in the form of various investments in the company. The firm has also lured that the investors would get commission if they introduce new members.