Atul Sathe's take on the dense green cover spread across SoBo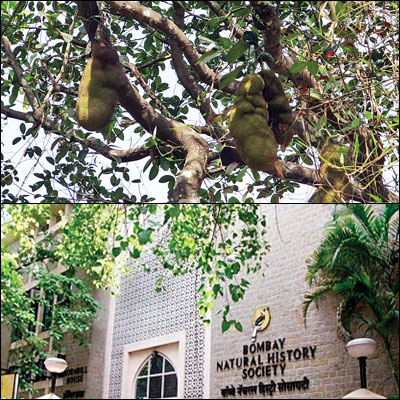 South Mumbai is well-known for its plush corporate offices, charming heritage structures, the dazzling Queen's Necklace, cultural and festive attractions, vibrant places of worship and other well-planned localities. But an overlooked feature of SoBO are the still-surviving pockets of greenery in an otherwise highly urbanised landscape.
Actually, what remains is but a minuscule part of the once verdant labyrinth of orchards, dense mangroves and lush moist deciduous forests on hill slopes. The early Portuguese described the city as "laden with fruits, flowers and dense tropical vegetation". Articles from the British era depicted in the Bombay Natural History Society's (BNHS) coffee table book, Living Jewels From The Indian Jungle talk about tigers coming from Malabar Hill to drink water at Gowalia Tank. It is said that when the pioneer of Bollywood, Dadasaheb Phalke, decided to shift to a house in Dadar, neighbours advised him against, calling it a "far-off jungle"!
Nevertheless, what remains is precious and worth visiting. The dense, green vegetation on Malabar Hill includes the canopy in Hanging Gardens, the slopes behind Babulnath Temple, the Tower Of Silence, and the sprawling acres of Raj Bhavan. This natural-cum-man-made forest includes gulmohar, desi badam, copperpod, mango, coconut, rain tree, jamun and jackfruit. It houses dozens of species of birds, including rose-ringed parakeet, coppersmith barbet, magpie-robin, golden oriole, peafowl and even a typical forest bird like brown-headed barbet. Mongoose and various snake species have been spotted.
Horniman Circle, nestled amongst heritage structures such as the Asiatic Library and Bombay House, is another soothing patch of emerald. A huge banyan tree along with coconut trees is conspicuous among our other green friends here. Close by, the premises of Chhatrapati Shivaji Museum (formerly Prince of Wales Museum) shelters beautiful specimens of baobab, ratangunj, mango, Chinese fishtail palm and jackfruit. The space in front of BNHS Hornbill House is decked with mahua, tabebuia and kadamb. Both flanks of the Oval Maidan have majestic specimens of wild almond, karanj and bottle palm. The Western Railway headquarter's premises has an elegant cannonball tree while the footpath in front of HPCL Petroleum House dons a purple hue with taman flowers in late summer.
The tree diversity in Sagar Upvan (Colaba), the shaded naval area further south, the green premises of some clubs near the Race Course, the dense mangroves along the 10kms Sewri-Mahul coast that support the flamingos, the lush tree cover on the Sion Fort hill, the mini forest in Maharashtra Nature Park (Dharavi) and the unique botanical heritage of Jijamata Udyan (Rani Baug) are some of the other green spaces that continue to grace the landscape of South Mumbai.
The writer is the Manager-Communications at Bombay Natural History Society (BNHS)