Given the number of bird casualties witnessed during Makar Sankranti, a rescue camp is the need of the hour.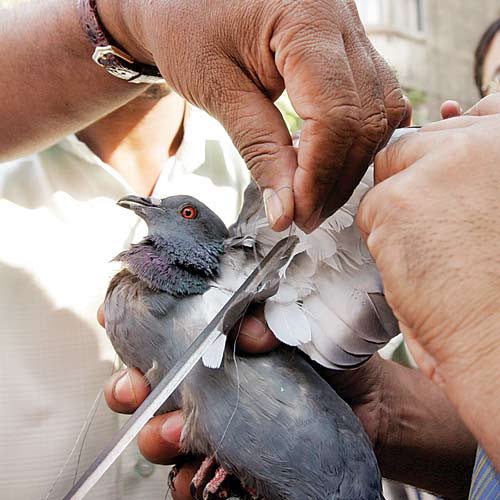 Next week during Makar Sankranti, as revellers fly colourful kites in the skies, a group of people will troop past kite-flyers, looking out for birds injured by the sharp-edged kite strings.
Given the number of bird casualties during the kite-flying festival, a trader from South Mumbai, Sandeep Shah, is organising a bird rescue camp to save winged creatures which end up bearing the brunt of the sharp-edged manjha — the thread used to fly kites.
Shah says it's painful to see the injured birds. "As a child, I too flew kites but back then the manjha was never so sharp. But these days, the manjha as well as edges of kites are sharp that they cut into the flesh easily. It also claims human lives," said Shah.
To avoid bird casualties, Shah and his band of volunteer friends will fan out across the city — right up to Bhayander — with a well-equipped veterinarian in tow to provide treatment on the spot.
From the rescue site, an injured bird will be placed into a netted cloth bag or a special basket which allows passage of air to facilitate breathing. Besides the team of rescuers will be armed with a long metal rod to safely scoop out an injured bird from where it had perched itself. The rescued bird will be transported for medical treatment.
Over the last few years, Shah used to operate on an individual level but since last year, he holds a full-fledged camp with support from his diamond merchant friend Shailesh Chouvatia.
Shah says that last year they managed to save at least 1,500 birds with timely treatment.
Shah says that the inspiration for such work is not religious belief alone. "It's about humanity and compassion. Sadly, we get funds required for such work but volunteers are hard to find," he says.