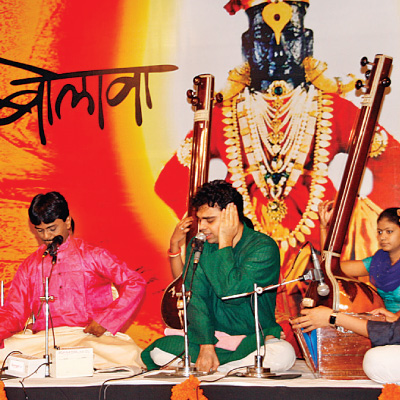 Ashadi Ekadashi, the festival celebrating not only Maharashtra's but entire Western India's presiding deity Lord Vitthal, when lakhs of devotees walk all the way to Pandharpur, a special concert of abhangs and devotional songs dedicated to Lord Vitthal — Bolava Vitthal — is being organised in Mumbai. It will showcase leading vocalists Rahul Deshpande, Devaki Pandit, Jayateerth Mevundi, Anand Bhate, and the southern sisters Ranjani and Gayathri.
In its eighth edition, the concert, which has already travelled to Delhi, Kolkata, Nashik, Bengaluru, Nagpur and Panaji, will go to Thane district's Kalyan on the eve of Ashadi Ekadashi, while the finale will be in Mumbai's largest auditorium Shanmukhananda hall.
Dedications to Lord Vitthal sung will include compositions by great Bhakti poet saints Sant Dyaneshwar, Sant Tukaram, Sant Gora Kumbhar, Sant Namdeo and Sant Janabai from the 12th to the 19th century, which is seen as India's renaissance. Pioneered by legendary vocalist the late Bharat Ratna Pandit Bhimsen Joshi, this genre of 'Santwaani' (devotional compositions by saints) with over 2,500 shows across India in the mid 70s and 80s, Bolava Vitthal tries to re-create the magic of what is the musical legacy of Maharashtra and Karnataka.
While Pandit, Mevundi and Ranjani-Gayatri will enthral audience at the Kalyan concert, the Mumbai concert will see Deshpande, Mevundi, Bhate and Ranjani-Gayatri take the stage.
For the past eight years Bolava Vitthal has received tremendous response from the music lovers across India as eminent musicians Ganasaraswati Kishori Amonkar, Ajit Kumar Kadkade, Aarti Ankalikar-Tikekar, Ashwini Bhide-Deshpande and Shaunak Abhisheki have performed on this platform.
The man behind organising the idea of this unique concert is son of veteran vocalist late Padmabhushan Pandit CR Vyas' son Shashi Vyas of Pancham Nishad.
"Bolava Vitthal concerts have created its niche amongst the audience in the past eight years. Its pan-India reach symbolises the popularity of devotional song genre. This concert is not only for devotees but also for music lovers who will be bowled over by the tunes and classical finesse," he told dna, adding, "Bolava Vitthal will soon travel to the US and UK. We are working out the dates. It's a very exciting time for Indian music in general and devotional music in particular given the response from worldwide audiences."
Originally from Matunga, the star attractions at the concert, Carnatic vocalist siblings Ranjani and Gayathri, who are are now Chennai residents, said they love the response they get in Maharashtra while singing abhangs. "A chance meeting with Vishwas Shelgaonkar, a banker from Washington DC, over a decade ago, introduced us to this treasure trove of compositions by Bhakti poet-saints," says Gayathri.
Already besieged with calls for encores of favourite abhangs at the concert, the two said they will try and abide by those demands. "We particularly get requests for Bolava Vitthal by Sant Tukaram and Dhanya Dhanya by Sant Eknath," smiles Ranjani.
(On July 8, 8.30pm onwards at the Acharya Atre Rangmandir auditorium, Kalyan, and on July 9, 6pm onwards at Shanmukhananda auditorium, King's Circle)