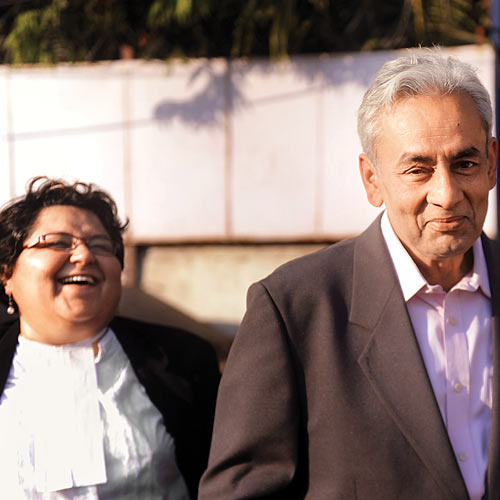 The city crime branch that is investigating the murder of Sandhya Singh said that the prima facie motives that could have led to the killing could be property, bitter relationship between mother and son and the need of money for drugs by Raghuveer.
"Singh's have three flats in NRI area of Navi Mumbai. Two of these flats are in the name of Sandhya and her husband, while the third flat in Raghuveer's name. Interestingly, the third flat was recently gifted by Raghuveer to his father. The move was probably made to ensure that the property doesn't get attached by the police. The family also has another flat in Navi Mumbai, which is under litigation," said a crime branch officer.
He added that Raghuveer, a high school pass, also had a land in Panvel in his name. The family also owns land in their native place in Patna. "As per our investigation, Raghuveer didn't share a good relationship with his mother. He used to assault his mother and at one stage, she was contemplating to report the matter to the police. Also a few hours before she left her house on December 13, there was some argument between Sandhya and Raghuveer," the officer said.
Another reason, the police suspect could be the urge for having narcotics and the need to buy them. "Between September 15 and November 15, Sandhya had gone out of Mumbai and Raghuveer was alone and didn't have enough money to support his need for narcotics. He sold his motorcycle to meet his requirements," said the officer.
The police sources said that between December 4 and 13, the mother-son duo were frequently involved in arguments. "On December 10, Sandhya had asked the carpenter to change the lock of her cupboard as she suspected that the money was being siphoned. On December 11, Sandhya reportedly called Raghuveer, when he was with his friend, Shreya. When Shreya asked the reason for call, Raghuveer claimed that his mother suspected him of having stolen Rs30,000 from home. However, Raghuveer later claimed that the money was found at home," the officer said.
Background of the case
Sandhya, the sister of yesteryear actresses, Sulakshana and Vijeta Pandit, and music composer duo Jatin-Lalit, went missing on December 13 last year, and for three days she was untraceable.
Her family registered a missing person's complaint with the NRI police station in Navi Mumbai.
Her partial skeleton, was found near the Palm Beach Road, by a British national on January 28, and in February this year, the case was transferred to the Mumbai Crime Branch.
Why a piece of chain was left with the skeleton?
The police had found seven to eight bones and a skull near the Palm Beach Road in Navi Mumbai. "A piece of chain was found with the skull. We suspect that Sandhya was murdered somewhere else and her body parts were purposely disposed in an area which is highly crowded, so that people discover the human bones. If a person wants to steal jewellery, why would he let go off a small piece?," said a crime branch officer.
Raghuveer asked to get daal-bhat and chai in police lockup
Raghuveer, who led a lavish lifestyle, enjoyed the company of friends and contraband, would now be served daal-bhat in the police lockup. "Raghuveer has been kept in the crime branch lockup in Chembur. As per the norms, he would be given tea followed by daal-bhat and bhaji for dinner at 7pm. In the morning, he would be given breakfast before leaving for court," said a crime branch source.