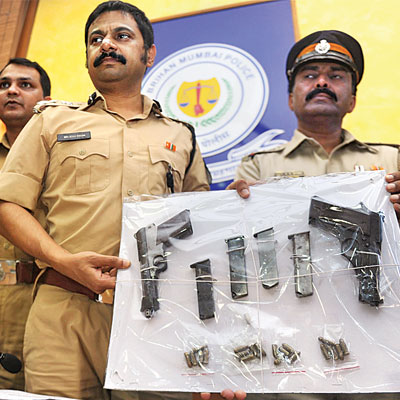 The Malwani Police, on Saturday, arrested a software engineer with two country-made revolvers and 20 live cartridges. He was allegedly on his way to gun down his former girl friend and her father in Malad (west) when he was arrested.
The accused, Amit Jain (31), was, in 2012, arrested on rape charges after his girlfriend had lodged a complaint. After coming out of the jail on bail in January last year, Jain planned to take revenge. He had lost his job after being arrested and spending six months in jail.
According to the police, Jain who is an electronics & telecom engineering graduate from Indore (MP), came to Mumbai and did his MBA in 2009.
"Jain was involved in a long-distance relationship with a girl and had wanted to marry her. But her parents did not accept him, and so the two parted ways. But the girl lodged a rape case against Jain in 2012 at Goregaon police station," said additional commissioner of police Brijesh Singh (north region).
"Jain had been working with a multinational company till 2012, but he lost his job after being arrested," added Singh.
"Jain was granted bail in January 2013. And he planned to kill the girl and her family as he had lost his job because of them," said another officer.
The victim and her parents were living in Goregaon area, but after coming out from jail, Jain threatened them on several occasions, so they shifted from Goregaon to Malwani area in Malad (west).
"But Jain managed to track them down. He then went to Madhya Pradesh and bought two country-made pistols and four magazines and 20 live cartridges paying Rs 90,000. Jain was heading towards their home when we accosted him," said the officer.
"We got a tip off about Jain's mission and intercepted him. He even threatened us with the revolver, but two policemen overpowered him," said senior police inspector Abdul Rauf Shaikh of Malwani station. Jain was arrested under the Arms Act and several other charges under the IPC.