That glorious moment when one finds out that the buzzer round gifts onthe Koffee with Karan show are made just a hop, skip and jump away, in KempsCorner.... Meet Namrata and Nikita Chawla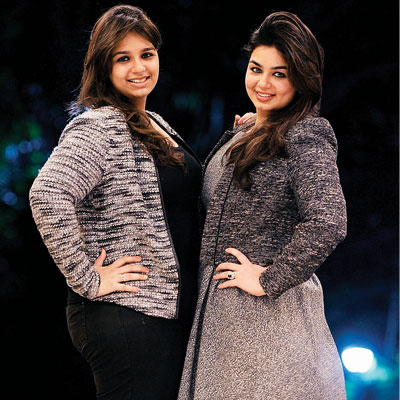 A Sunday well-spent for many often involves beingsprawled on a couch, furrowing our brows in anticipation of the dramatic anticsthat unfold on Karan Johar's controversial chat show. But the highlight, whenAalia Bhatt is not getting her politicians mixed up or when Sonam Kapoor is notbusy seemingly gloating, lies in those creatively wrapped gifts that are givenaway to the guests at the mere touch of a buzzer.
Customised. Trendy.Thoughtful. Sought-after. Gifts Tell All, a SoBo-based company, is theenterprising venture behind it all–one that makes gifting an art, and receivinga pleasure. While some of you are busy chuckling at the innuendo dropped there,we speak to Namrata and Nikita Chawla about their brainchild.
"Started four years ago, Gifts Tell All was a naturalprogression for us from making our own chocolates and selling them, elaboratelywrapped, to eventually making gift-wrapping our core value proposition,"explains Namrata. From putting together hampers for any occasion, all with atwist, to arranging flowers for someone who figures it has been customised atfirst glance, the Chawla sisters are determined to be a cut above the rest. A quick look at their work and we catch their drift–aSachin Tendulkar-inspired gift hamper for a cricket lover; a gift wrapped in acrossword paper that highlights all the movies she has worked in for avidreader Kajol. A priori, the girls seem to have hit the right spot.
Though there are thousands who would like to clamourabout 'being creative', more often than not they get lost in the sea of peopleproclaiming the same about themselves. But for this Kemps Corner duo, word ofmouth publicity is taking over the city like plague and their tie-up withDharma Productions are enough to warrant their statements. "A friend of ourswho worked at Dharma Production happened to drop the name of our company; thatreference took us a long way as we received a call from the producers of theshow, asking for the gifts to be wrapped up for guests," reveals Namrata. Whatshe remains tight-lipped about, however, were the gifts that guests receive onthe show, "We are well aware of who gets what and that too, well in advance!"Badgering her further with questions, Namrata does not budge as she smiles andsays, "You would get me into trouble if I told you about them!"
Having studied at HR College and lived in South Mumbaitheir entire lives, the Chawla sisters now spread their wings onto Bollywood-esqueterritory. "We have received orders for gifts for stars like Hrithik Roshan andKangana Ranaut," they share. With their SoBo pincode, comes an avalanche ofinferences about products and services being higher-end and Western-inspired.When we prompt the sisters about SoBo playing in their favour or not, they say,"We have always lived in South Mumbai, though, very luckily, we get orders fromall over the city!" However, they do not deny that "SoBo does in fact come witha lot of perceptions that happen to work for us, given the field we are in!"
It is not every day that young SoBo twenty-somethingsget to receive signed 'koffee' mugs from Karan Johar as a seal of approvalfor their creative work. Namrata and Nikita Chawla,however, get to boast about it, one buzzer round gift at a time, one customisedhamperat a time.