Students protest over multiple errors in results for fifth semester exam declared last week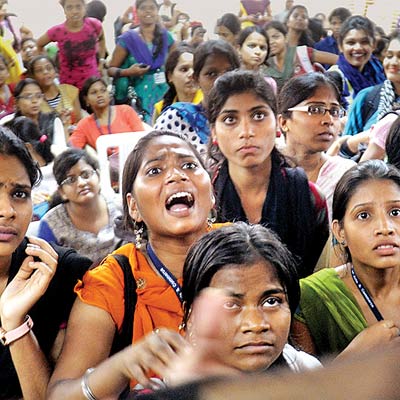 Hundreds of students of SNDT Women's University who appeared for the fifth semester exams in October 2013 have been failed, after being wrongly marked absent for certain papers, according to the results that were declared last week.
There are eight colleges in Mumbai affiliated to SNDT. From the initial information available, at least 500 students have been affected at three of these colleges. There are some 20 other colleges in the rest of Maharashtra and in Gujarat, Goa, Madhya Pradesh, Uttar Pradesh, Bihar and Assam. The colleges have an estimated 70,000 students.
Between 10 and 20 per cent of students who appeared for the BCom and BA exam have been marked absent. The highest absentees were marked in commerce and computer studies. Students say that many who had topped the previous semesters had also been marked failed.
Most of these students have been directed by the university to appear to the repeaters exam and pay a fee of Rs525 with their registration for the exam.
No SNDT authority would explain the cause of the fiasco or to assure the students that the problem would be looked into promptly.
Vasudha Kamath, vice-chancellor of SNDT, did not respond to phone calls. A university official admitted there was a problem and attributed it to a "technical glitch".
As it is, the results, which should have been declared within 45 days of the examinations, were delayed.
"We have been running from pillar to post, but to no avail. The sixth semester exams are scheduled from next week and we have been told to fill up forms for the supplementary exams for no fault of ours," said students of MD Shah Mahila College, Malad, during a protest on Saturday.
More than 40 students of SPN Doshi College, Ghatkopar, have been affected. A college official said, "We have escalated the matter with the varsity. It has promised to rectify the matter by next week. But we were not told the cause of the problem."
Prof TJ Mathews at the Juhu campus confirmed the problem, but refused to give details, saying that the university authorities were looking into the matter.
Some professors have blamed the mess on the private firm contracted for the work.
"The varsity hired the services of the Maharashtra Knowledge Corporation Limited in 2012-13, for the transition from offline to online much of the work. Either this firm or the office of the exam controller is responsible for the fiasco," said a professor.