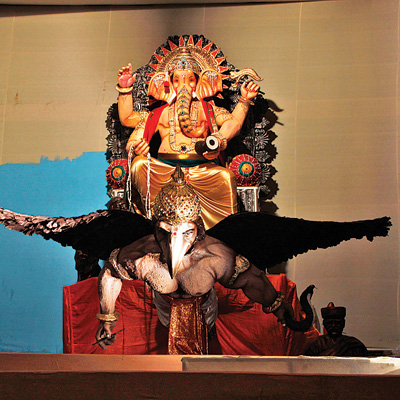 While prominent Ganpati mandals continue to have their trademark idols, the lesser known ones have taken a lead of sorts to make the festival eco-friendly. Instead of having plaster of Paris (PoP) idols, they have moved to idols made from eco-friendly material.
"Until last year, we too used to get PoP idols. But we wanted to make sure the festival does not harm the environment in any way. So we shifted to eco-friendly idols," said Umesh Poojari, secretary of the Ek Dant Mitra Mandal in Vile Parle (East).
Though made out of paper, they make sure their idol's height remains at nine feet or thereabout, with the decoration on par with that of idols made out of non-eco-friendly material.
Not far from this mandal is the idol of Bal Gopal Mitra Mandal Vile Parlyacha Peshwa, also made out of paper. This mandal, however, went environment-friendly seven years ago.
"It was one of our boys who wanted to move to eco-friendly idols. But he passed away that year. In his memory, we made a paper Ganpati idol," said Digambar Mayekar, mandal guide.
Mayekar makes the idol himself and it takes him around six months. "The idol is 90% eco-friendly. Because the paper does not hold, we use a wire or two in places. ...Ours is a 14-foot-tall Ganpati," he added.
The mandal, however, makes it a point to have all the other decoration made out of paper too. "But these are not immersed. We take them out and reuse next year," said Mayekar.
Immersion is one of the main reasons why some mandals moved to eco-Ganeshas. "We don't like to see Ganpati on the beaches the next day. The idols even kill marine life and cause environmental pollution. Our paper idol, on the other hand, dissolves in minutes. From next year, we will try and make sure that we do immersion in artificial ponds," said Nilesh Bhojane of Tarun Mitra Mandal at Andheri Pump House, Andheri (East).