No report on the cause yet by panel of top BMC officials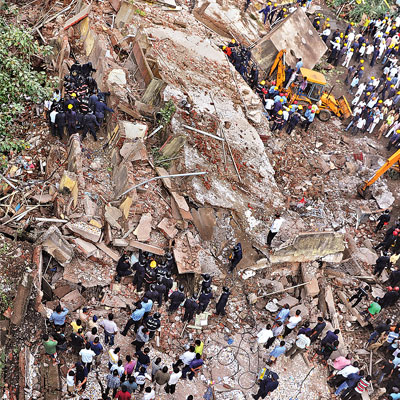 Nearly six months since the Babu Genu Market building in Dockyard collapsed, killing 61 people, the survivors have not received the assistance promised and there is no sign of the inquiry report that was supposed to given in a month.
The four-storey building came down on September 27, 2013 and amid widespread criticism of the authorities for neglecting the safety of residents of the 30-year-old structure, eight officials were suspended and a probe was initiated into whether there was any neglect. The officials were subsequently arrested and charged with criminal conspiracy.
"The delay may let some officers go scot-free. Some have already been transferred," said Tushar Pawar, whose parents and sister died in the crash.
Chief minister Prithviraj Chavan had announced a compensation of Rs1 lakh to the kin of each of the deceased and Rs50,000 to each of those who suffered injuries.
Shweta Kamble, who lost her mother and sister in the accident, said she had not received any assistance. "We have not received any money. Also, the BMC has not responded to my application for a job," she said.
The building belonged to the Brihanmumbai Municipal Corporation (BMC) and most of the residents were families of civic employees. So, the BMC had promised jobs to surviving family members of employees who died.
"We have taken down the statements of staffers concerned. However, we are yet to receive the report of the technical committee. We require that report to know whether we must record statements of other staffers or call those who have already been questioned," said Rajiv Jalota, additional municipal commissioner (projects), who is one of the two members on the panel set up by the municipal commissioner to probe the accident.
Mohan Adtani, additional commissioner (city) is the other member. The panel was supposed to submit its report in a month. It has questioned staffers of its market and planning department, which dealt with the files pertaining to the matter and complaints from the residents over a period of three years.
Asked why the technical probe had not been completed yet, Laxman Vhatkar, director of the BMC's engineering services and projects, said there had been a delay getting relevant documents from agencies like the Slum Rehabilitation Authority and the Public Works Department.
"We sought certain documents from these agencies with regard to the work they had carried out near the building. This took some time. The probe is complete and we will submit the report to the municipal commissioner," Vhatkar said. He, however, did not specify when the report would be handed over. Vhatkar also refused to share details of the report.