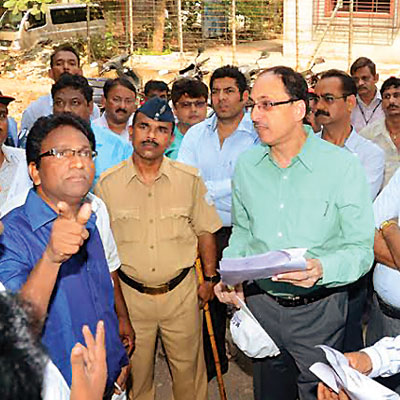 Civic chief Sitaram Kunte on Tuesday took a round of the western suburbs to inspect dilapidated buildings there. During his visit, the BMC chief once again requested residents to arrange temporary accommodation for themselves, if their buildings were dangerous.
The civic chief visited 10 buildings in western suburbs. Speaking to the media, he said: "Dilapidated buildings comprise private and Mhada houses. It has come to light that in two to three buildings in western suburbs, residents have refused to vacate, knowing their structures are dangerous. They should immediately shift to temporary accommodation."
On the action that the civic body was taking on this front, he said: "Many dangerous buildings in our jurisdiction have been vacated and work to pull down those structures is on."
Kunte also inspected the employees' residential quarters of Marol fire station and the newly constructed corporation school building at Iraniwadi in Kandivli West. On Wednesday, he would inspect dangerous and dilapidated buildings in the eastern suburbs.
During his western suburbs visit, Kunte was accompanied by additional commissioner (western suburbs) Sanjay Deshmukh, Laxman Vhatkar and other senior civic officials.