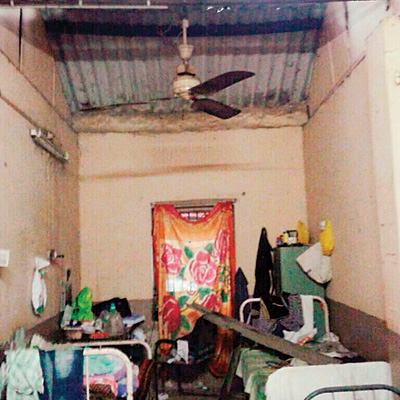 A first year resident doctor at LTMG Sion Hospital narrowly escaped major injuries after the ceiling of his hostel came crashing down early on Tuesday morning. While the doctor was treated for minor injuries, the Maharashtra Association of Resident Doctors (MARD) has written to the dean of the hospital to make an alternative, safe and hygienic stay arrangement.
Talking to dna, a senior member of MARD said, "The barracks are an accommodation for first year resident doctors and we have been complaining about its dilapidated condition for a while. Early on Tuesday morning, because of heavy rains, a tree fell on the roof, which came crashing down."
At the time of the incident, only one resident doctor was in the room while the other two were on duty. "32 resident doctors stay in those barracks. At the time of the incident, the doctor was asleep. Luckily, he wasn't directly under the part of the ceiling that fell off. We have written a letter to the dean and asked for a better stay facility for us," said the MARD representative.
The barrack was repaired, but residents have been asked to accommodate themselves in the old resident doctor quarters for the time being. "These are very old structures. We have repaired the ceiling and will have an audit done before letting the resident doctors stay in these barracks again," said Dr Avinash Supe, dean of LTMG Sion Hospital.
MARD has been at loggerheads with the administration over the poor accommodation facilities, long working hours and contracting tuberculosis. "Accommodation for resident doctors has been a major problem in Sion hospital. There has been a space crunch and the conditions that we are living in are unhygienic. We have been promised, by the hospital administration, that our accommodation will be sorted, but we still await the same," said the MARD representative.