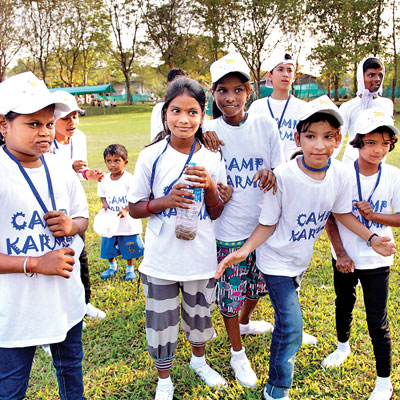 Yogesh, 15, lives with a disfigured face. When he was nine months old and crawling up to his mother, a stove burst and he was burnt for life.
"He lost mobility in his hands. His face was completely burnt and he could not shut his eyes, he has lost his left ear...," Dr Vinita Puri, head of the plastic surgery department at KEM Hospital, said. "He has lived with his deformities for 14 years. His family approached the hospital a year back for treatment."
His face looks so deformed that every time Yogesh visits the hospital he keeps his face covered. The department, along with an advocacy group Burn Advocates Network, USA, has made a 45-minute film on the poignant story of Yogesh titled, Silent Screams. The movie will be screened on Saturday morning at KEM.
Twenty such burn survivors, united by their tragedy, will converge at KEM in Parel to watch their stories unfold on the big screen. Fifteen girls and five boys, survivors of grievous burn injuries, which have left them disfigured and deformed, who are being treated at the hospital's plastic surgery department for more than a year will assemble to share their tragic stories.
In December last year, the department with help from Burn Advocates Network, filmed their lives in a three-day residential fun camp organised by TrailBlazersIndia, an adventure travel company. "We filmed Camp Diaries, featuring stories of these children at the first of its kind camp organised for children who are victims of burn injuries. Both Silent Screams and Camp Diaries will be screened on Saturday," Rashmi Sharma, assistant manager, TrailBlazersIndia, said.
Three years back, Zaid Ahmed, 14, suffered an 11,000 volt shock in UP and lived to tell the tale with deformed hands, skull and ears. Zaid features in Camp Diaries. His father Abraq said Zaid has undergone four reconstructive surgeries. "My son will undergo at least two more surgeries. I have spent over Rs3 lakh in his treatment." Abraq works as a tailor in Saki Naka, Andheri (East).
KEM hospital, the top-most tertiary care centre in Mumbai attends to over a hundred cases of burns in a year. "Up to 70% of patients suffering from burns are women and children," Puri said.
Children are extremely vulnerable. If left unattended, they may accidentally play with fire or get an electric shock or walk over hot liquid. "Injuries can affect their hands, feet, face or private parts. Their fingers may fuse or become crumpled leaving them disabled," the doctor said. "There are many children and adults who live with deformities... They do not know that their deformities can be set right with proper medical help."
Silent Screams (45 mins) and Camp Diaries (45 mins) will be screened at KEM Hospital, Parel at 10am on Saturday at MLT auditorium at the KEM Medical College building.