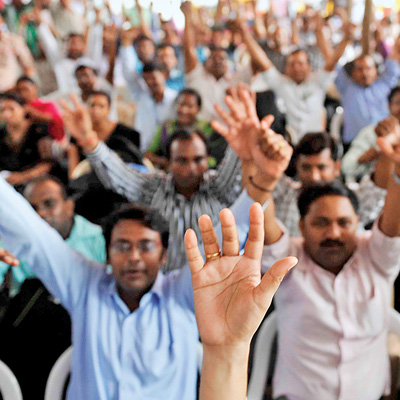 Fearing a total shutdown of state-run post-mortem centres in Mumbai, the government has requested the already short-staffed BMC hospitals to provide doctors to conduct post-mortems in these centres. Close to 12,000 doctors across the state are on an indefinite strike, which include up to 16 post-mortem doctors from Mumbai. Dr Rajesh Gaikwad and Dr Pramod Rakshamwar are sitting on an indefinite hunger strike since July 1 at Azad Maidan in CST.
The doctors are protesting as they want the age of retirement for doctors raised from 58 to 62 years. They also want the implementation of Dynamic Assured Career Progression (DACP), according to court orders for time-bound promotion and revised pay scales. The state public health department has declared the strike illegal under the Maharashtra Essential Services and Maintenance Act (MESMA), 2011.
Public health secretary Sujata Saunik said that if the doctors do not withdraw their strike in the next 24 hours, legal action will be taken against the protesting doctors under Section 7, 8, 9 and 11 of MESMA.
Close to 400 doctors who had gathered from across the state defied the state's threat and burnt copies of MESMA notices issued by the health department on Thursday.
Sources said that state police surgeon Dr SM Patil had been requesting post-mortem doctors at state-run centres in JJ Hospital in Byculla, RN Cooper Hospital in Vile Parle, Bhagwati Hospital in Borivili and Rajawadi Hospital in Ghatkopar to not stop work unless alternate arrangements were made.
Each of these four centres conduct at least 10 to 12 post-mortems per day. A letter written by Dr Patil to heads of forensic departments at BMC-run medical colleges KEM, Sion and Nair as well as state-run Grant Medical College states that as alternate arrangements, at least two forensic doctors should be made available in each of the centres every day.
Nair, Sion and KEM's forensic departments are already short-staffed and overloaded with work, complained senior doctors. "We can comply with the state's orders for not more than three days. We are facing a 50 per cent staff crunch in the department. Of eight sanctioned posts, two for professors, two for associate professors and four for lecturers, we have only four posts filled. Moreover, from Monday, forensic practical examinations are starting. From Monday, we won't be able to send back-up staff to Bhagwati postmortem centre," said Dr Shailesh Mohite, head of the forensic department at Nair Hospital. Of 13 sanctioned posts in the forensic department of KEM Hospital, only eight are filled. Sion Hospital too is short-staffed.
"KEM doctors will be sent to Cooper's post-mortem centre, while Nair doctors will go to Bhagwati and Sion doctors will handle Rajawadi post-mortem centre," said another senior doctor.
Patients bear the brunt
Number of OPD patients not attended to: 5 lakh
Number of admitted patients not attended to: 1 lakh
Surgeries cancelled each day: 6000
Post-mortems cancelled every day: 1000