Party to use Thackeray's charisma to motivate Sainiks ahead of polls.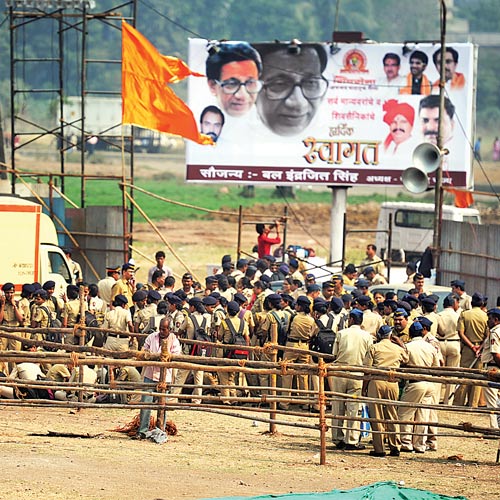 Even a year after the death of Bal Thackeray, the Shiv Sena is banking on the charisma of its late supremo to make an emotional pitch to the cadres for a saffron victory in the upcoming Lok Sabha and assembly elections.
On Thackeray's birth anniversary on Thursday, party president Uddhav Thackeray will address a public meeting — Nirdhar Melawa – at Somaiya Grounds in Sion. A 'Shiv Bandhan' or a special saffron thread will be tied on the wrists of Sainiks who will be given a pledge to fulfil the dream of the Sena chief to vote the saffron alliance into power at the rally. The Sena had circulated similar bands before the 2009 polls.
These threads were consecrated by Yuva Sena president Aaditya Thackeray and Sena leaders at the temple of Goddess Tuljabhawani at Tuljapur on Monday.
Sena sources said the programme would help consolidate its cadres and supporters before the elections. It was likely that the "Pratidnya Din" rally could be an annual feature for the party like the Dusshera rally, they added.
"We have been preparing for the programme with gusto," said Sena Rajya Sabha MP and party secretary Anil Desai. Around 5 lakh Sainiks from Maharashtra and other states are expected to attend the rally, he added.
Desai said the Sainiks would be asked to pledge their solidarity to the Sena chief's dream to vote the Congress and NCP out of power and ensure the victory of the Shiv Sena-BJP led Mahayuti (grand alliance).
"Political activists need a (political) programme," said Sena MLC Neelam Gorhe, adding that the rally would also make the party's stance clear for the coming elections. However, a Sena activist pointed out that these saffron bands lacked the "visual impact" of the Aam Aadmi Party's (AAP) Gandhi caps. "However, these bands will create a personal attachment with the party," he said.
"Even after Balasaheb's death, Uddhav Thackeray's Shiv Sena needs him," said Surendra Jondhale, professor, department of civics and politics, University of Mumbai, adding that Thackeray Sr was "indispensable" for the Sena even today. He added that Uddhav had been unable to create a separate agenda for the Sena.
"The Shiv Sena has not carried out any (major) agitation on the streets, not taken a sharp stance against the government, not reached out to the people, but wants to keep the Shiv Sainiks engaged in emotional issues," said Jondhale.

Helpline on late Bal Thackeray's birth anniv
The Shiv Sena will launch a toll free helpline — 1800228595 — on Thackeray's birth anniversary for people to register their complaints regarding social issues. The Sena will follow these complaints up with the state government.