Phadnis fondly remembers Thackeray felicitating him in 2000 on completing 75 years of life amidst high security .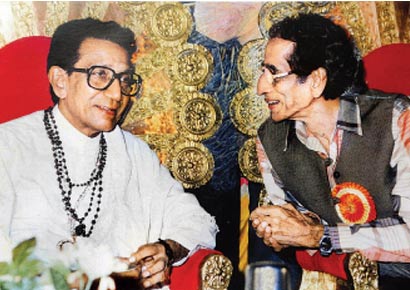 Cartoons speak a democratic language and despite the fact that Bal Thackeray spoke of the thokshahi (muscle power) policy of his party, he inculcated the spirit of democracy through his political cartoons in Marmik and influenced a generation of cartoonists in Maharashtra.
Thackeray was probably the first cartoonist mass leader in the history of Independent India but his important contribution was that he inculcated the spirit of healthy criticism through
cartoons in Maharashtra.
Noted cartoonist, Shivram Dattatreya Phadnis, famous for his cartoons without captions, counted Thackeray's facets as a cartoonist and as a human being. "Before starting Marmik in 1960," recalled Phadnis, "Balasaheb was known to me through his cartoons published in many publications including Free Press Journal, Awaaj, Kesari, Navyug among others."
He said there is a similarity in the cartoons of Balasaheb and New Zealand political cartoonist David Low, as Balasaheb was influenced by Low. Balasaheb came out with Marmik to point out contradictions in the society. Phadnis said that Balasaheb founded Shiv Sena when the injustice around was beyond the reach of cartoons.
It was phenomenal, said Phadnis, "that a cartoonist not only founded a party but brought it to power in one of the most important states in the country."
Phadnis said that a cartoon is a non-violent yet powerful medium to show a difference of opinion or criticism and Balasaheb truly demonstrated how cartoons can communicate quickly and effectively. "Balasaheb had presided over the first meeting of cartoonists in Maharashtra in 1983 held in Kolhapur and demonstrated caricature and political cartooning while explaining the importance of knowing anatomy and using minimum lines to bring forward an entire personality," said Phadnis.
Balashaeb had attended the cartoonists' meets at Vile Parle and Girgaum where he met all the participants without security.
Phadnis fondly remembers Thackeray felicitating him in 2000 on completing 75 years of life amidst high security . "Balasaheb told me that he had created many enemies through his art of cartooning while I created humour without any enmity towards anyone."