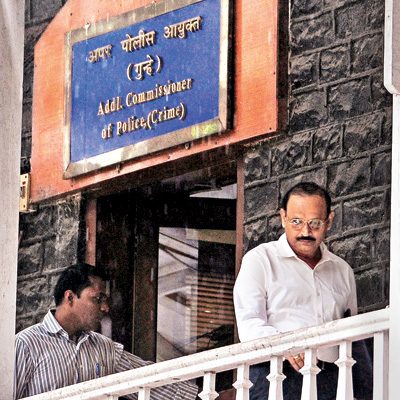 In an editorial in 'Saamna', on Saturday, the Shiv Sena extended its support to senior IPS officer Sunil Paraskar who stands accused of rape by a Mumbai-based model.
It went so far as to question whether it has become fashionable to level rape charges. "Has it become a fashion to level rape charges these days," it stated.
"After he has served for so many years in the police force, one model now charges DIG Sunil Praskar with rape and in one night he becomes a villain. Such accusations have become good weapons to seek personal revenge," the party said in its mouthpiece.
Decrying the efficacy of the newer laws, the editorial further added, "New laws were made after the shameful 'Nirbhaya' incident, but did rape cases decrease?" It noted that there was increase in cases that are sensationalised through accusations of eve-teasing and rape.
"When the truth has to come out, it will. But till then the media trial the accused has to go through damages his morale," it said. "All the laws in the country favour women so anyone can slap any charge against anyone. The judicial system has to open its eyes and ensure that justice is served to the innocent," the edit said.
The Sena mouthpiece questioned the model's intentions to file rape charges against the DIG when everything between the two "was fine" till now. "What is the model's background ? How did she suddenly make a rape accusation when everything between them was fine until now? This question comes to the mind of a common man but the police investigation seems to ignore these questions," it said.
It questioned the delay in filing the case saying that a woman who has been subjected to such a torture will not be able to wait for so long to get justice. "This model filed charges after six months.... We have to remember after the unfortunate rape incident at Shakti mills, the victim filed her complaint in a couple of hours. No woman will be able to bear this inhuman treatment on her for even a minute. She would file a complaint immediately," the Sena said adding that the facts of the case should be brought in public as soon as possible.
Back story
The 57-year-old deputy general of police has been booked under sections 376(2) (rape by a police officer), 376(C) (intercourse by superintendent of jail, etc) and 354(D) (stalking) following a complaint by a model. The case was registered by the Malwani police station last week. The model accused Paraskar of sexually assaulting her on various occasions between November 2013 and March 2014, when he was then additional commissioner of police (north region).
Paraskar, who had filed an anticipatory bail plea before a sessions court, had been granted interim protection from arrest till July 31. Paraskar's lawyer Rizwan Merchant had told the court that the complainant had been once booked by the police under the Prevention of Immoral Trafficking Act on the charge of running an escort service.
ALSO READ: Poonam Pandey to be quizzed in the Paraskar rape case
According to sources, Paraskar, in his statement, has admitted to knowing the victim and travelling along with her to the two places mentioned in the FIR. He, however, had denied the allegations of rape brought up against him by the victim, sources said. Paraskar has told the police that he knew the victim as she had registered three cases in police stations under his jurisdiction when he was posted as additional commissioner of police, North Region, Mumbai City. He also revealed that he had accompanied the victim to Madh Island. The purpose of the visit was to help the victim get a bungalow for a photo-shoot. And according to Paraskar he accompanied the victim to a flat in Navi Mumbai as mentioned in the FIR filed against him, but the purpose of the visit was to get the victim a flat on rent. Read more
ALSO READ: I need some more time to prove my innocence: Sunil Paraskar