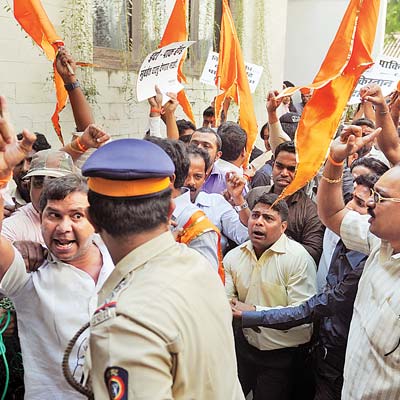 Twenty Shiv Sena activists, including three women, were arrested on Tuesday by the Azad Maidan police for barging into the Mumbai Press Club premises and shouting slogans against the Pakistani Sufi band, Mekaal Hasan.
The incident occurred around 3pm. Nearly 30 Sena activists trespassed into the club after they learnt that the Sufi rock band was going to announce the launch of an Indo-Pak band at a press conference.
"They were about to hold the press meet when Sena activists barged into the room and tore up the posters of the band," said Narendra Singh, senior inspector of Azad Maidan police station.
In a statement condemning the incident, the Press Club secretary said the club strongly condemned the attack by the Sena goons. "The press conference was intended to announce the formation of the first-ever joint Indo-Pakistan band," the statement read.
The members of the new band include Pakistanis: composer-songwriter, guitarist Mekaal Hasan, guitarist Pappu Sahab, flautist Sharmishtha Chatterjee; and Indians: vocalist and drummer Jino Banks, who is the son of popular Indian musician Louiz Banks, and bassist Sheldon D'Silva.
"We are not against cultural activities, but Pakistan must stop sponsoring terrorism," Shiv Sena leader Arvind Sawant, said.