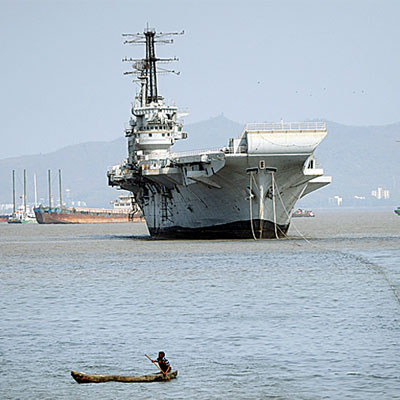 Following an order of the Supreme Court (SC), ex-Indian Naval Ship (INS) Vikrant was on Wednesday moved from the naval dockyard and taken to a ship breaking yard at Darukhan in South Mumbai. While the historic ship was being towed away, newly-elected Shiv Sena MP Rahul Shewale, along with hundreds of Shiv Sainiks, protested outside the Lion Gate against its auction and eventual ship-breaking. The Shiv Sena is demanding that the ship be converted into a wartime memorial.
"The vessel was in a precarious condition and it could suffer extensive damage. During high tides or the monsoon, it could even sink. Looking at the seriousness of the situation, it was decided to move the ship to Darukhana where it will remain safe," said a source.
During the protests, Shewale said, "People are emotionally attached to the Vikrant. The ship was once the pride of India and was an inspiration to the youth of the country. It was the dream of late Balasaheb Thackeray to maintain this ship and turn it into a wartime memorial. Shiv Sena executive president Uddhav Thackrey will discuss this issue with the Union Defence Minister Arun Jaitley soon."
"At around 9.45 in the morning on Wednesday, the ship was towed by four tugs and reached the ship-breaking yard in Darukhana at around 2.30pm," the source added.
According to Navy sources, the ship is now not in any condition to be converted into a museum. "Recently, IB Commercial Pvt Ltd had won the bid for Rs60 crore to scrap the decommissioned aircraft carrier. Around 60 per cent artefacts of the ship have been removed by Maritime History society in Mumbai and others have been given to the Naval Aviation Museum in Goa," said a source.
"The 70-year-old aircraft carrier is in extreme obsolescence and its hull is in a bad condition," the source added.
"In 2008 the cost was more than Rs500 crore to set up the museum and now the cost could escalate to over Rs1000 crore. It is misuse of public money to convert it into a museum," the source further said.
Indian Navy's first aircraft carrier, INS Vikrant, was commissioned in 1961 and it was decommissioned in January 1997. In January 2014, during the hearing of a PIL which opposed the plan to scrap the ship, the Union Ministry of Defence told the Bombay High Court that it had completed its operational life. The Maharashtra government had stated that to preserve it as a museum would not be financially viable.
The High Court subsequently dismissed the PIL. Now, the petition is pending in the Supreme Court. The Majestic-class aircraft carrier, purchased from Britain in 1957, played a key role in enforcing the Naval blockade of East Pakistan during the Indo-Pakistan War of 1971.