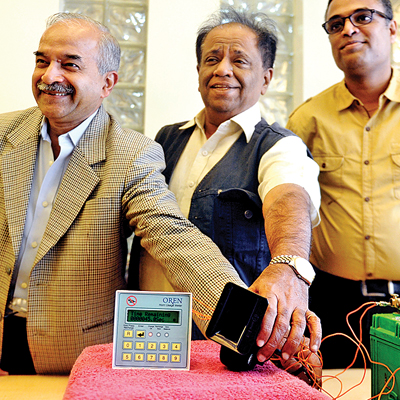 Have you been startled for the nth time because of a sudden honk next to you in traffic? Or are you among those trying to catch a few winks in the afternoon, made impossible by the noise from honking outside? Here's some good news... A new device called the 'Oren Horn Usage Meter' has been developed to curb the habit of unnecessary honking amongst drivers in our country.
The prepaid device, which fits near the dashboard of a vehicle, can be used in a non-intrusive way to not only charge the driver but also enable authorities to monitor, control and penalise people in case of excessive use of the horn.
Conceptualised by Jayraj Salgaonkar, who publishes the noted almanac Kalnirnay, the meter was developed over three long years with the help of the technical skills of his friend Amit Davjekar, an engineer and owner of a design firm.
This prototype will be presented to the state government and the traffic police for consideration on Friday. "If the government decides to adopt this device, it will not only generate revenue for the state but also public goodwill as people are sick and tired of this continuous honking. Nearly 30% of the fatigue we feel is due to noise pollution around us," said Salgaonkar.
The meter will come with a preloaded amount of money and free use time, similar to a mobile recharge, to accommodate basic and essential horn use. Any use over this amount will be deducted from the balance in the device, which can be recharged with a prepaid scratch card. The horn won't stop working at any point of time but, when the meter indicates zero balance, it can lead to a further penalty.
"A vehicle's parking lights will start flashing every time the balance touches zero, making it more noticeable to the traffic police," explained Davjekar.
The ever increasing number of cars and rising traffic density have led to unbearable noise pollution all over Mumbai, which was graded the noisiest city in the country by the Central Pollution Control Board.
Various NGOs have recorded traffic noise touching 100 decibels, even in silence zones, in the city. World Health Organization reports reveal that exposure to continuous noise over 85 dB can lead to irreversible hearing loss and reduce an individual's lifespan by a few years.
"This device is one of a kind as no other country has the need for it. In another country, you would be abused or even shot, like in Texas, for using the horn unnecessarily. It aims at reshaping faulty habits and enforcing good and healthy driving culture," said Salgaonkar.
Cost of production of the simple prototype was less than Rs250. It will feature a more compact design when produced on a large scale.
The concept
The meter, which is to be fitted on every vehicle, will have a keypad and a small LCD screen
The wiring is non-intrusive and will include non-contact sensors placed near the horn
The screen will show you your balance of free and paid seconds of horn time
When the balance is low, a light that says 'recharge now' will come on
A recharge card will be available at every petrol pump and other such shops
The meter can be recharged via an SMS, similar to a mobile recharge
If the balance becomes zero, your parking lights will come on