Stink no more Work on the beautification project will start after the Lok Sabha polls in city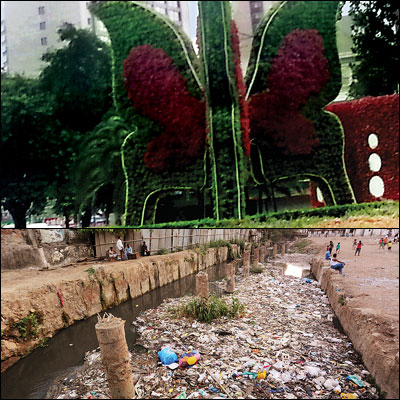 In what could be a first for the city, a butterfly-shaped vertical garden will soon come up in Irla near Vile Parle. The project, which is on the lines of a similar garden in Shanghai, will cover the opening to a huge nullah at the SV Road, thus beautifying the area.
The BrihanMumbai Municipal Corporation has roped in a private firm to execute the project, estimated at a cost between Rs10 and Rs15 lakh.
Residents of the area have long been complaining to the civic authorities to devise means to cover the nullah, which had turned into be a breeding ground for various diseases.
"Whoever passed by, discarded waste and plastic into the nullah, leaving it dirty and stinking. As a result, it had turned out to be a breeding ground of mosquitoes. We had to do frequent fumigation, as the nullah also crosses several buildings and slums," said Nirav Bhaveria, a local.
Bhaveria said he and other residents had approached the local BJP corporator Ameet Satam, who then took it up to the BMC authorities and managed to get the required approvals to set up the garden.
Shailesh Potnis, member of a nearby society, welcomed the move. "The garden would block the opening to the nullah and also beautify the area." he said.
While the Brihanmumbai municipal corporation had approved the plan last month, fabrication and designing work has already started. The garden is expected to be put up soon after the Lok Sabha elections in the city, which will be held on April 24.
Satam informed that several residents of the area had approached him complaining about dumpers stopping by the nullah late at night and dumping debris into it. "With heaps of debris thrown regularly in the nullah, it got choked. The vertical garden would prevent such instances in the future," he said.