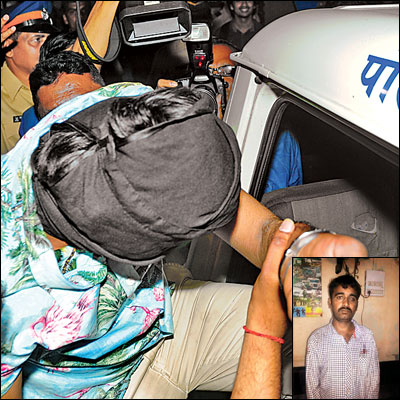 It took the police several hours of running a fine tooth comb through the antecedents of at least a hundred suspects before they finally managed to nab Ayaz Mohammad Ansari. But thank god they did.
Ansari, a serial molestor who has in the past one year molested at least 13 minor girls -- between 7 and 15 years of age – was arrested around 4.30 pm on Wednesday from near a school in Khar.
Police suspect that the man could have been involved in nearly 25 molestation cases in the city.
Ansari, 32, is a resident of Juhu Galli area in Andheri (west). Police say that 11 of his victims were from the western suburbs alone.
Explaining how the case was cracked, Mumbai police commissioner Rakesh Maria said that after the string of molestation cases, the police revisited crime scenes, met the victims and got details and descriptions of the suspect. Accordingly, sketches of the suspect were drawn. The sketches were circulated across 93 police stations in the city.
Police knew that one of Ansari's eyes was damaged due and that proved to be his undoing.
The police questioned over 100 persons having visual defect in one eye from across the city. Of these, 40 were from western suburbs alone. The police also sought details from hospitals about the suspect during investigation.
On Tuesday, an informant tipped off the police about a suspect similar to the one they were looking for. A team of officers from DN Nagar police station, including inspectors Rajendra Chavan and Milind Desai, visited Ansari's residence and questioned his brother who identified the person in the sketches as Ansari. This information was then corroborated by assistant inspector Manohar Harpude, who had arrested Ansari in a robbery offence in January last year.
On Wednesday, the police learnt that Ansari was in Khar and nabbed him near the school. "Before we picked him up he had stolen an iPhone in Malad. He doesn't remember how many cases he has committed and where. He is a drug- and alcohol-addict," said a police officer.
"His interrogation will help us similar cases in future as well and would help us understand the psyche and modus operandi of person with such habits," said Maria.
Ansari has studied till class 4. "When we asked Ansari how his eye got damaged, he said that a piece of wood fell on him in which his eye got damaged. Ansari's father was a carpenter," the officer said.