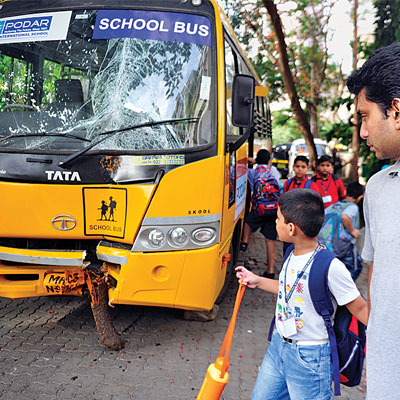 The Parksite police in Vikroli, on Tuesday, charged a Podar International School bus driver, Sudhakar Pandagale (50), with rash driving and causing hurt by act endangering life or personal safety of others, after he brought the bus to a stop by ramming it into a tree to avoid hitting a bike coming in the opposite direction. He had done this as he could not apply the brakes properly on the sloppy lane.
The accident happened at 6.25am when the bus was taking 13 young students to the school in Powai.
Complainant Jaghit Singh, who witnessed the accident, said: "I saw the accident; the driver rammed the bus into a tree. Some students as well as a lady attendant were injured. The school sent another bus to take the children to the school."
Anil Garg, a contractor of school buses with Podar schools, said: "The road was uneven and sloppy. The driver could not apply the brake and he had to avoid hitting a bike coming from the opposite direction, forcing him to ram the vehicle into a tree. Parents should not force buses to come into small lanes that have uneven roads to pick up children. It's difficult for drivers to control such huge buses on such roads."
CS Mani, director in-charge of transport operations in Podar group of schools, who was at Powai Podar International School, said: "The school has apologized to the parents. The driver was not drunk nor was he inexperienced. The lane was sloppy and because of that he could not apply the brakes properly. His only option was to ram into the tree to avoid colliding with the bike. No one in the bus was injured except for minor bruises."
Anil Kekan, investigation officer, Parksite police station, said: "A case of rash driving and causing hurt by act endangering life has been registered against the driver. The parents along with the complainant approached the police to ensure no such incident takes place again. The complainant is a witness in the case. Two children and an attendant suffered minor injuries. The driver underwent medical check-up at Mahatma Phule hospital at Vikroli. On Wednesday he will be produced in the Vikroli court."