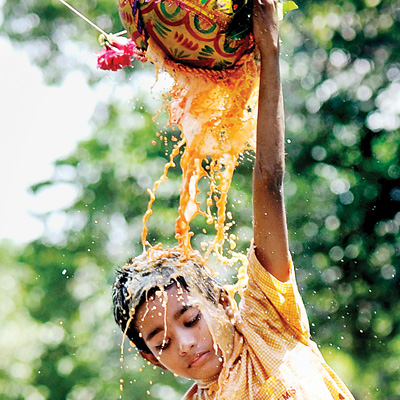 Every year, on Dahi Handi day, it is a common sight to see people watching govindas forming human pyramids to break sky-high handis.
The nerve-wracking moment comes when the tiniest and smallest govinda is seen climbing from one shoulder to another to reach the top of the human pyramid and with his hands and legs trembling the kid tries to break the handi.
Four to five govindas die every year on average after they fall from human pyramids while practising or on the day of the festival. Several others are severely injured, often maimed for life. This has prompted the Maharashtra State Commission for Protection of Child Rights (MSCPCR) to ban children younger than 12 years, from participating in the dahi handi festival.
While the controversy refuses to die down, this year the number of participants opting for insurance has gone down drastically — it is 25% less than last year.
A 14-year-old boy from Sanpada, Navi Mumbai, died on Saturday morning of injuries sustained during a fall from a dahi handi human pyramid six days ago. The boy sustained injuries last Sunday while practising to form the human pyramid with his friends when he fell and sustaine dinternal injuries. However there was no external injury. He complained of chest pain on Monday. The parents could not admit the boy to the hospital and kept him on prescribed medicines at home. He died on Saturday.
For the past seven years, Oriental Insurance Company Ltd has been the only firm to offer insurance cover to govindas across Mumbai and other parts of the state. "Because of the government's decision to ban participation of children in the festival, dahi handi organisers are in a state of utter confusion this year," Sachin Khanvilkar, administrative officer of Oriental Insurance Company, said. "Majority of the mandals are waiting for the government's final decision."
"Every year, the duration of coverage for insurance is one month before the festival; so the practice period too is insured. But this year, mandals have informed us that they are not getting any insurance done because of the prevailing confusion," he said.
"Last year, 10 days before the festival, more than 80,000 participants took insurance cover, but this year, even though the festival is just a week away only 27,000 participants have taken insurance," Khanvilkar said. Explaining the process, he said a premium of Rs30 per participant is charged as premium for a Rs1.5 lakh insurance cover.
. There are more than 1,200 registered mandals in Mumbai, Navi Mumbai and Thane. "After the decision to ban children was announced, most mandals did not know what to do. There was confusion if the entire festival was going to be banned...," Suresh Panchal, officer-bearer of the Dahihandi Utsav Samanvay Samiti (DUSS), the body representing all Dahi Handi mandals, said.