St Mary's alumni come together for its sesquicentennial celebrations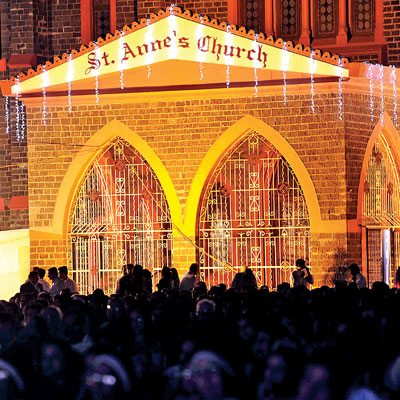 St Mary's School, an institution that was established as a Catholic Military orphanage, celebrates 150 years in education this year. Marking the milestone on June 15 2014, the school has organised a year-long line-up of events to commemorate the occasion.
Speaking about the celebrations underway, Sushil Sukhwani, president of the alumni association, shares, "We, the members of the association along with the core team, have planned a complete annual extravaganza to highlight this landmark year. The inauguration ceremony on November 23 2013 has been followed by a series of dos. The entire chain of about 12 events is driven by the objective of raising funds for our alma mater. A dinner for over 800 alumni was hosted earlier this month as a platform to bring together some of the luminaries who have passed out of our school. A musical evening with Gary Lawyer was yet another event we organised." The festivities were flagged off with an inaugural event that was attended by the Governer of Maharashtra, K Sankaranarayanan. The event was marked by the unveiling of a stamp, dedicated to the school and its 150-year legacy.
Illustrious history
Some of the luminaries that St Mary's enlists among its alumni include Late Homi K Bhabha—the Anne F Rothenberg Professor of English and American Literature and Language, and the director of the Humanities Center at Harvard University; Zubin Mehta—conductor and music director for Life of the Israel Philharmonic Orchestra; Late Farooq Shaikh—theatre and Bollywood actor; Soli Sorabjee—jurist and former Attorney General of India; and Azim Premji—chairman of Wipro. One such team of stalwarts, including Boman Irani and Meherzad Patel, is set
to present Rusty Screws at NCPA this weekend, as part of their sesquicentennial celebrations.
Alumni speak
Meherzad Patel, a 2004-batch alumnus of St Mary's, reminiscences, "St Mary's holds one of my fondest memories—that moment when I was captain and our house won the inter-house dramatics trophy. Competition was fierce and the previous year, we had come in last. So, when the judge announced us at first place, we (Sajeel Parakh and I) jumped for joy. It was such a strong moment. Sajeel and I continue to work together. He is in Rusty Screws and also a partner at Silly Point Productions. That memory of winning meant a lot to me. It was the reason I took up theatre professionally." Silly Point Productions, incidentally, has four Mary-ians as part of the founding team. Like Rusty Screws, their first production, The Class Act, was also all-Mary-ian, except for the single lady member in the cast. Patel explains, "Given its theme, we believe Rusty Screws will be an engaging watch for an audience across ages. While these are not depicting our experiences while at St Mary's, I felt the theme was universal and hence the play was chosen for the occasion. We are glad to be a part of this celebration. This is our way of giving back to our school."
Speaking to dna downtown about his association with St Mary's, Boman Irani shares, "St Mary's spells fond memories for me. Every time you go back there, be it as a student, a parent, or an ex-student, you have fond memories of the institution. Being part of a 150-year rich culture is like having your own, original social network. Before the Internet took over, the alumni of a school and the network is how people kept in touch. It is a culture that has made me and every other ex-student in this cast what we are today. Rusty Screws is a play that has six ex-students of St Mary's, including the director, Meherzad Patel. We are putting together this show for the school. We are giving back to our alma mater by contributing the entire proceeds to the school for the welfare of its current and future students."