New avenues opening up for students wishing topursue higher education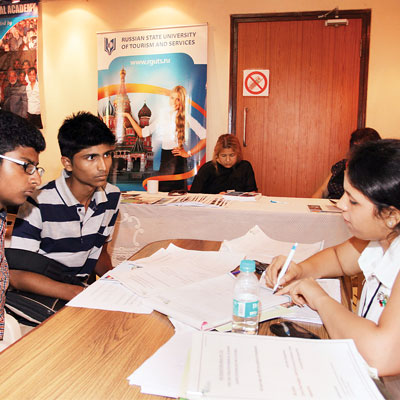 The obsession with the United States of America and United Kingdom as educational destinations of the world is long over. Newer destinations are wooing Indian students to their countries with each passing year. First it was Australia and Singapore, and now Russia seems to be latest suitor.
Recently, the Russian Centre of Science and Culture hosted a two-day education fair along with Rus Education at their Peddar Road centre. The North Caucasus Federal University, Russian State University of Tourism and Service, Far Eastern Federal University, Kazan State Medical University, Tver State Medical University, Orenburg State Medical Academy and Bashkir State Medical University were some of the leading educational institutions that participated at the fair.
Speaking to dna, Vladimir Dementiev, Director—Russian Centre of Science & Culture, Mumbai and Vice Consul General of Russian Federation in Mumbai, said, "Indian Embassy in Moscow has confirmed to me that 5,000-6,000 Indian students are currently studying in Russia. It is very heartening to note that the agreement of mutual recognition of degrees is ready and should be signed in time for the upcoming visit of President Putin to India."
In its 10th year, in fact, the Russian Education Fair has allocated 145 scholarship seats for medical and engineering students attending the fair this year. "The medical fraternity is one of the most important avenues that we offer. We are glad that the Tver State Medical Academy—our oldest partner—was able to join us at this fair. In Tver alone, we have about 1,000 Indian students studying medicine and these are the future doctors of India. In fact, almost 95 per cent of the medical degree holders from Russia, who appear for the examination to practice in India, clear it in the first shot. Tver achieves this by inviting Indian lecturers, who can teach the students in their own native languages, so as to overcome the language barrier."
Lower Parel-resident Sanjeev Pal was one of the students who attended the fair. Speaking about the opportunities it presented, Pal said, "Medical education in India is very expensive and we cannot afford it. My father has a colleague, all three of his sons are pursuing their MBBS degree in Russia and they have given very good feedback about the course as well as life there. Education is not as expensive. Hence, I decided to pursue it as well. I have applied to a few universities and await to hear from them."