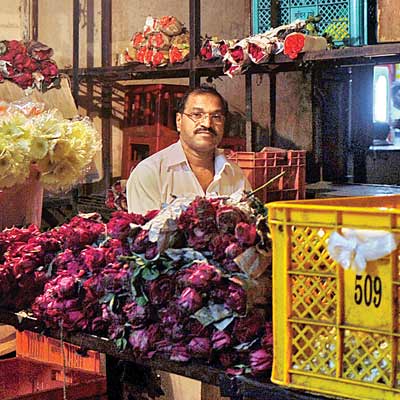 With Valentine's Day just over a week away, love is in the air, literally. Roses from the interiors of Maharashtra, including Satara, Sangli and Talegaon in Pune, are being exported to US, Japan as well as European and Gulf countries from Mumbai.
With the increasing demand for roses ahead of Valentine's Day on February 14, airlines flying out of the Chhatrapati Shivaji International Airport are temporarily reducing the export of other perishable commodities like fruits, vegetables and other flowers. Roses have a shorter shelf life and are therefore kept in special temperature-controlled containers which earlier accommodated other flowers.
Thanks to the festival of lovers, Indigo, the country's leading low-cost carrier, is doing brisk business. "Every day, we export about 800-1,200kg of roses to destinations like Dubai and Muscat apart from other places where we fly to from Mumbai," Anish Nair, an executive from Indigo airlines, told dna.
National carrier Air India leads the pack with over 30 tonnes of roses exported to the US, Europe and some Asian countries from Mumbai alone last year. "Our freight flights to the US and European markets nowadays are full of flowers. Ninety per cent of them are roses," said an Air India official involved with the cargo division.
Foreign cargo companies are cashing in on the demand too. For instance, Turkish Airlines, which does not accept flowers as cargo otherwise, has changed its stance now and has started accepting the red cargo but for a premium. The airline exports 1.5-2 tonnes of roses daily to its European sectors.
A representative of Thai Airlines, Wareich, confirmed that there has been a surge in demand for roses in Japan and Europe. "As a result, we are carrying a large number of rose flower cuts," he said.
"Though the international market goes crazy about roses during the Valentine season, the domestic market picks up only 3-4 days before Valentine's Day," said Mahesh Chavan, a rose floriculturist from Talegaon. Experts said because of the growing popularity of Valentine's Day, Father's Day and Mother's Day, the flower export industry in India is growing at 17-18 per cent annually.