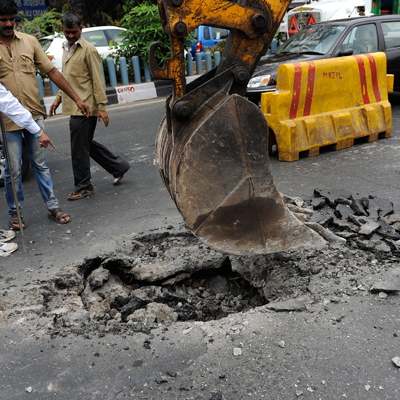 A portion of the road at Girgaon Chowpatty, near Wilson College, caved in on Monday afternoon, creating a cavity of dimension 1ft x 1ft x 6 inches. According to civic officials, the road is more than 70-year-old.
"The concrete was put directly above the sand on the road, and rain water that sweeps down must have displaced the sand resulting in the road caving in."
"We will remove the concrete slab, put fillings and then put asphalt on top of it. The work will start tonight (Monday) and will be completed by tomorrow morning, following which the road will be opened to the public," the official added.
The incident marks the second such incident in the last couple of days. The first one was at Madame Cama Road, near Mantralaya, on March 27, when a portion of the road caved in.
According to civic officials, the reasons for both the cave-ins were different. "The road cave-in near Mantralaya was as a result of an underground pipeline burst, so it took some time to fix it. However, the work here will be completed by tomorrow morning."
D Gaikwad, inspector, Tardeo traffic division said: "There were no traffic snarls reported due to the cave-in. There have been no diversions, nor were any lanes blocked. Only a part of the lane (about four feet long) was blocked, but that did not affect vehicular movement."